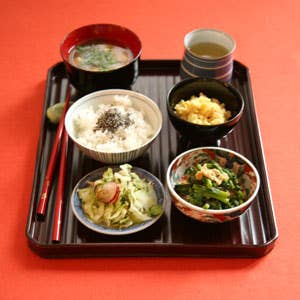 Culture
Notes on My Mother's Breakfast
The time-honored breakfast fare for one Japanese family.
My mother's usual breakfast is a bowl of plain white rice, miso soup, pickled vegetables, seasonal greens with abura-age_ _(deep-fried tofu), and Japanese-style scrambled eggs. These dishes are all time-honored Japanese fare except for the scrambled eggs, which are both a family favorite and a sign of the times in which my mother was raised.
My mother, Tokuko Shimbo, was born in 1927 in Takada City, which is northeast of Tokyo, facing the Sea of Japan. Her father was a pediatrician at a school run by Christian missionaries; her mother volunteered at their church, where she picked up the recipes for many "exotic" dishes, from French omelettes to beef tongue stew and coquilles saint-jacques. Although those dishes were nothing like the traditional foods my grandparents grew up with, they came to love them.
Some of those "new" recipes were introduced to Japan long before my grandparents' missionary friends arrived. Western foods made inroads into the Japanese diet during the 16th century, when Portuguese traders introduced eggs. (Until then, chickens had been considered sacred, so neither they nor their eggs were eaten.) By the end of the 19th century, people all over Japan had begun embracing even more Western foods, like beef (which had also been banned for the previous 1,200 years), because the Meiji emperor believed that the foods would help to "modernize" Japanese society. At the time my mother was born, such ingredients were reasonably well known in Japan, but few families embraced them as my grandparents did.
Scrambled eggs, however, were never my grandfather's favorite. "This is a kid's dish. I want a real French-style omelette made with butter," he'd complain, but my grandmother continued to make them because they required less time and skill to prepare than a traditional omelette. Indeed, my grandparents ate eggs for breakfast so frequently that they became a staple of my mother's kitchen, and I too ate them while growing up. I always found it intriguing to watch my mother prepare her morning eggs. She began by breaking them into a bowl with a little sugar and shoyu_ _(soy sauce), which she beat together with a pair of chopsticks. Next, she poured two tablespoons or so of rice vinegar into a heated saucepan and swirled it so that the inside surface of the pan was coated with a thin layer of rice vinegar. Then she added the egg mixture and cooked it, stirring vigorously with three pairs of cooking chopsticks held all together in one hand so that they functioned just like a French whisk.
Today my mother is 81 years old, but she continues to explore new foods. On a recent visit to New York City she indulged in not only Chinese soup dumplings, pasta, pizza, and hamburgers but also, for the first time, falafel and Spanish tapas. She loved every bite. Watching her savor those dishes, I couldn't help feeling impressed by the diverse food education her parents gave her and grateful that she passed her love of food along to me.