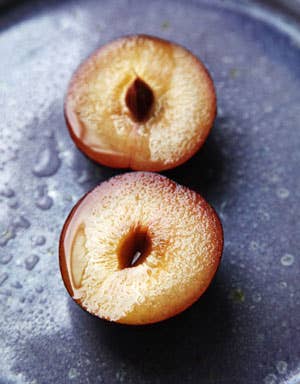 Techniques
One Ingredient, Many Ways: Plums
July's crown jewel of fruit, plums add tart flavor to both sweet and savory dishes
Despite the odds stacked against me (flat feet, curves, and shoddy-at-best balance), as a kid I dreamed of playing the sugar plum fairy in the Nutcracker. A wisp of lavender tulle and intricate footwork, she was one of ballet's most delicate creations — and in my mind, the epitome of elegance. I worked hard, taking class several days a week, practicing pirouettes in my living room and sitting on my heels at my teacher's insistence that it would stretch my arches into perfect dancer feet. (No luck there!)
Some 26 years after my first dance lesson, I have long since hung up my pointe shoes and moved on to better-fitting passions. But my early sugar plum dreams (never mind that the original sugar plum confection did not contain its eponymous fruit), left me with a certain affinity for the sweet, fleshy stone fruit. Peaches may be more iconic, but my heart belongs to the plum that once represented my creative aspirations. In summer, I can eat them by the half dozen.
First cultivated in China more than 2,000 years ago, plums fall into two basic categories: plump, juicy Japanese and small, firm European. In most varieties, Japanese plums are clingstones, while Europeans are freestones - terms that refer to how closely the flesh adheres to the pit. Within the two categories exists a startling panorama of colors and diverse shapes from the globelike, crimson-skinned Japanese plum called Santa Rosa to the oval, yellow-fleshed Stanley, a European variety.
July is the heart of plum season, which means farmers' markets will be bursting with them all month. With their smooth, tart skin and luscious flesh that tastes progressively sweeter after picking, plums add bright flavor to both sweet and savory dishes. Dense Italian plums, for instance, bring sweet tang to tarts, while Santa Rosas add punch to a plum-basil gin fizz. Add jammy, concentrated prunes (dried plums) to the mix, and you can celebrate the plum all year round.
Plum Tart
Sliced Italian plums top this cinnamon-spiced tart.
Prune Clafoutis
Prunes lend concentrated depth to this light, powdered sugar-dusted dessert.
Plum Chutney
This spicy sweet chutney comes loaded with four pounds of plums and complements everything from grilled meats, to fish and vegetable dishes.
Plum Gnocchi
This take on gnocchi keeps the potatoes, but swaps more traditional savory flavors for nutmeg, sugar, and sweet, ripe plums.
Romaine Salad with Plum Ginger Dressing (pictured above)
Fans of carrot ginger dressing will appreciate this riff on the classic, in which sweet summer plums and miso complement a crunchy Romaine and radish salad.
Plum-Stuffed Pork Loin
Dried plums and bacon add rich flavor to a slow-roasted pork loin.

Oaxacan Stuffing
Serve this hearty stuffing, loaded with dried plums, fennel, cumin and chiles along side your Thanksgiving turkey.
Plum-Basil Gin Fizz
Deep and sweet, this cocktail is an ideal vehicle for summer's juicy red plums.
Appetite for China: Plum and Ginger Soda
This fizzy, ginger-infused soda gets its vibrant magenta color from red plum skins.
_
Leah Koenig is a freelance writer and author of The Hadassah Everyday Cookbook: Daily Meals for the Contemporary Jewish Kitchen (Rizzoli, 2011). _