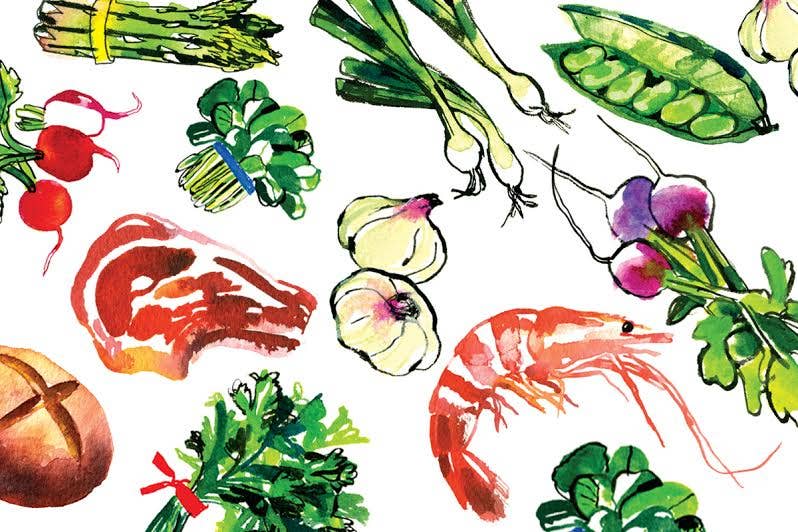 For many years, fine-dining kitchens were based on the French "brigade" model, in which cooks are assigned to specific stations, one for the preparation of sauces, another for pastry, and so on. As menus have diversified, a more collaborative and less hierarchical design has evolved in many kitchens, but the same guiding principle—maximizing efficiency in order to cook quickly and consistently for large numbers of people—applies. Chefs have learned to stay true to that principle in all kinds of kitchens, whether it's a cramped galley or a sleek, custom-designed space. Pictured is an open kitchen—specifically, the one at the rustic Italian restaurant Barbuto, in Manhattan, where I cooked from 2005 to 2006. Barbuto's owner, the chef Jonathan Waxman, was seduced by this more flexible, economical design, in which the action is on display for diners, while working in California and then introduced it to many New Yorkers at his first Manhattan restaurant, Jams, in 1984. "The honesty of the open kitchen means you know where the food comes from," says Waxman, "and the creativity and work that went into it." Here's a guided tour.
1. Storage is at a premium, so plates and dry goods are stowed on versatile metro shelving
2. Cooking pasta in mesh baskets instead of pots saves time.
3. Skillets get hot fast because they're kept warm on a shelf above the range.
4. Professional gas burners deliver intense heat for quick sauteeing.
5. A huge cast-iron griddle, often called a plancha, stays hot continuously for perfect searing.
6. Waxman's pride and joy are the grill and wood-burning oven, which turn out crisp chicken and gorgeously charred pizzas.
7. A stainless-steel countertop runs the length of the "line", where final food prep takes place and dishes are plated up; it sits atop a series of "low-boys" (small refrigerators (8).)
9. The soul of Barbuto's kitchen is a salvaged oak table; by day, cooks might shuck fava beans here. By night, the table holds up to 14 diners, who have front-row seats to the show.