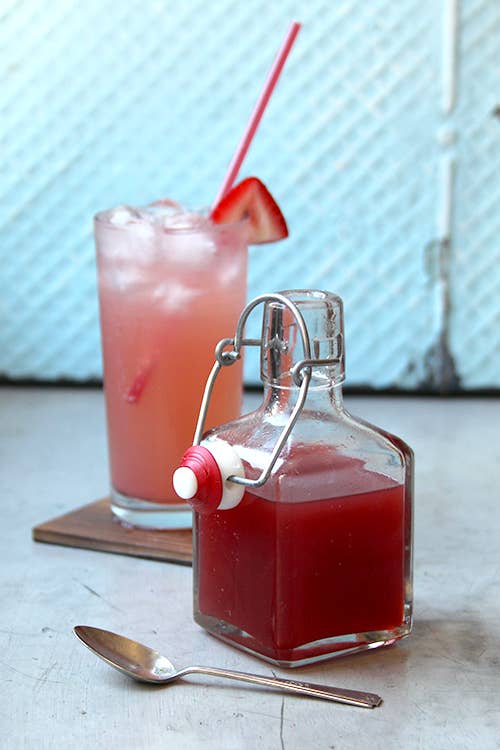 Techniques
Preserve the Season: Chile-Spiced Strawberry Syrup
I love the impeccable floral fragrance that strawberries give off when just plucked, fresh from the soil. Any home preservationist would want to try to hold on to that perfect bite of early summer as long as possible—and with time and a little bit of sugar, we can. My go-to method of late is a versatile strawberry-chile syrup, which pours real berry flavor both in the kitchen and at the bar, adding a sweet-spicy bite to drinks, desserts, pan sauces, and vinaigrettes long after strawberry season is over.
The secret to this fresh-flavor syrup technique is maceration. Finely-diced berries sit with sugar for several hours, allowing the sugar to pull moisture (and flavor) from the fruit's cells, resulting in an uncooked syrup that's both delicately sweet and redolent of fresh strawberry. The addition of lemon juice keeps the syrup from becoming cloying, and an herbaceous, spicy kick from ginger, crushed red chile flakes, and Sichuan peppercorns makes the syrup into something polished, adult, and complex.
Once you have the syrup ready to pour, it tastes great mixed with sparkling water—with or without gin. And a shrub is a great alternative to lemonade: Simply mix the syrup with apple cider vinegar and thin with water and ice. In the kitchen, don't just limit this syrup to pancakes—try it in a pork chop pan sauce, in a vinaigrette, or my personal favorite: poured over sweet-savory cheese blintzes.