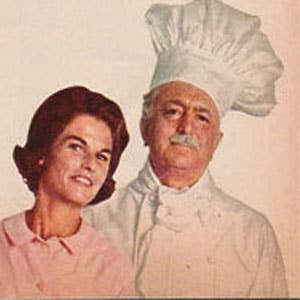 Culture
Ragù alla Jar
Franco-American, Chef Boy-Ar-Dee, and Ragu have long been staples of the American family spaghetti night. What are the stories behind the sauces?
In my childhood home, there was one antidote to the cooking experiments my mother conducted using recipes she clipped from newspapers and exchanged with friends—for chicken caliente, Continental rolls, ersatz chimichanga—one staunch mainstay, one weekly beacon of culinary hope. What was this much anticipated interlude? It was spaghetti night.
At our table, that always meant spaghetti with ragu: not ragu alla napoletana, not ragu alla bolognese. Ours was ragu alla jar, heated on the stovetop, served over a tangle of noodles, and showered with powdered cheese. At the time I didn't ponder it too deeply; spaghetti night marked just one rung on my family's steady climb up the ladder of zesty, tomato-based Italianate American foods, a natural progression from SpaghettiOs and canned ravioli. Recently, however, in a blur of memory, I started to mull the origins of the Italian food pillars of my childhood. Just what, I wondered, were the stories behind Franco-American, Chef Boy-Ar-Dee, and Ragu?
The probable creator of American canned spaghetti and, therefore, of spaghetti night was, strangely enough, a Frenchman, named Alphonse Biardot. According to The Canning Clan: A Pageant of Pioneering Americans by Earl Chapin May (The Macmillan Company, 1937), Biardot was a "gastronomical genius…[who] aspired to great culinary masterpieces for the delectation of other connoisseurs". Sometime in the mid-19th century Biardot lost a fortune in a shipment of canned mushroom soup he'd sent to South Africa, which was refused by the consignees. To offset his reversal of fortune, Biardot became the steward of the royal place at Athens and then, later, in the early 1880s, the manager of a canning plant in Wilmington, Delaware, run by the revered British firm John Moir & Sons. In 1887 he founded the Franco-American Food Company in New York City along with his two sons, Ernest (who was "skilled in selecting cooks who were experts") and Octave ("a practical executive and an expert with figures"). One of their early products was canned spaghetti a la milanaise [sic]—a mixture of tomato sauce, cheese, and pasta. In 1915 the Biardots sold their company to Campbell's, which turned their spaghetti into a popular mid-20th-century food. In 1965 Campbell's introduced a child-centric spin-off on the spaghetti, called SpaghettiOs. (Campbell's retired the Franco-American label from its line of spaghetti products in 2004.)
The Chef Boy-Ar-Dee brand, another Italian-American supermarket staple, got its start and its name courtesy of a real-life chef by the name of Hector Boiardi. Boiardi was born in Piacenza, Italy, and began as an apprentice in a hotel kitchen when he was 11 years old. He moved to New York City in 1917 to work as a cook at the Plaza Hotel, where his older brother, Richard Paul Boiardi, was a waiter. In the 1920s he started a restaurant called Il Giardino D'Italia in Cleveland, Ohio, with his wife, Helen. At the restaurant, his spaghetti sauce was in such demand that he decided to can and sell it. Boiardi found a group of farmers in Milton, Pennsylvania, who were willing to grow tomatoes for him, and he opened up a canning plant in an old hosiery mill there. His first product was a package that included dried pasta, cheese, and a can of tomato sauce—every ingredient one would need for a spaghetti night. Boiardi had trouble at first getting his products into supermarkets, but his luck changed when his brother Richard prepared his spaghetti sauce at the Plaza for John Hartford, who ran the A&P supermarket chain with his brother. Hartford promised to help; things took off from there. As evidence, a 1931 Piggly Wiggly ad I turned up features "Chef Boy-Ar-Dee Spaghetti Dinner" for 33 cents per set. (Hector had opted to phoneticize the spelling of his last name on his products, as otherwise no one—including his salesmen—could likely have pronounced it properly.) "Everyone is proud of his own family name, but sacrifices are necessary for progress," he said. Hector died in 1985 in Parma, Ohio, at the age of 87.
The Ragu Packing Company came from similarly humble beginnings. It was founded in a Rochester, New York, kitchen in 1937 by two Italian immigrants, Giovanni and Assunta Cantisano, who had emigrated to the United States from Bisticci, Italy. The Cantisanos prepared their tomato sauce, which was based on Assunta's mother's recipe, packaged it in mason jars, and sold it door to door. The sauce eventually made its way onto grocers' shelves: a newspaper ad from 1946 for a " host of delicious hard-to-find foods" at A&S Priscilla Food Shop in Brooklyn, New York, lists a 12-cent jar of "Ragu Italian Style Spaghetti Sauce" amid jars and tins of "Tootsie Fudge Mix" and "Chop Suey Vegetables". According to John Mariani's The Italian-American Cookbook: A Feast of Food from a Great American Cooking Tradition (Harvard Common Press, 2000), the "familiar label picturing a Venetian gondolier derived from an image [the Cantisanos'] son Ralph saw on the wall of a Philadelphia restaurant". It was Ralph Cantisano who built the brand into the national juggernaut we know today, eventually selling the company to Chesebrough-Pond's in 1969. Today it remains the most popular spaghetti sauce on the market. As the tenor and Ragu TV spokesperson Enzo Stuarti used to say, "That's a nice sauce."
Chef Boy-Ar-Dee commercial, circa 1953: