Sportello
In Boston, a hometown hero gets back to basics.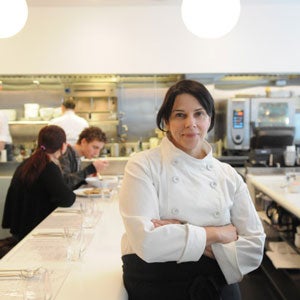 The chef and restaurateur Barbara Lynch is Boston's cross between Martha Stewart and Robert Moses. She's a cook with superb taste, both gustatory and visual. She's also an urban visionary with working-class roots who is always looking around the next corner, usually one with a lot of demolition crews blocking the view. Since she opened her impeccable No. 9 Park on Beacon Hill, in 1998, Lynch, a native of Irish South Boston (think The Departed), has built a culinary empire of more than seven restaurants and gourmet shops. Her latest venture is a sleekly designed Italian lunch counter called Sportello. It's a tribute to Brigham's, the ur-Boston ice cream parlor and luncheonette where as a teenager she flipped burgers and first thought, Hey, I can do this.
Lynch trained with seasoned chefs in Boston and then broadened her horizons in Italy, where she left a big part of her heart but gained a culinary identity and design sense to add to her own, Boston-bred aesthetic. Sportello focuses laserlike on what made Lynch a phenomenon and an inspiration, namely, pastas of a delicacy and subtlety of flavor that no Irish girl has any business knowing how to make: pillowy, creamy potato gnocchi with peas and mushrooms that define spring; strozzapreti with braised rabbit, an ingredient she has long championed; ricotta ravioli with nutmeg, brown butter, and parmigiano-reggiano. End with the homemade tiramisu; for all her hard-won expertise, Lynch hasn't lost her Bostonian sweet tooth or the loyalty to her roots that has allowed her to remain a local hero while she's made herself a national star. —Corby Kummer, senior editor at The Atlantic and author of The Pleasures of Slow Food (Chronicle, 2008.) For more information on Corby Kummer visit his site at corbykummer.com.