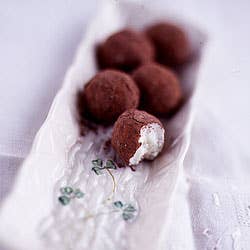 Culture
Sweet Potatoes
Philadelphians love these seasonal spuds.
The Irish potato harvest begins shortly before Valentine's Day and lasts, appropriately enough, through March 17. These potatoes aren't subterranean tubers, however, and they're about as Irish as green bagels. In fact, they're candies—bite-size balls of coconut cream rolled in cinnamon, confectioners' sugar, and cocoa. They merely look like spuds, fresh little dirty ones, and Philadelphians eat them up.
Harry Young, president of Young's Candy and probably the oldest living candymaker in the area, doesn't know much about the origins of these Irish potatoes, but he says he remembers seeing a recipe for them in a cookbook published in the 1870s. He also talks about the days when dimes and pennies were tucked inside some of the candies—noting that the FDA put an end to the practice in 1938. Fellow candy man John Glaser, president of Stutz Candy Company of Hatboro, Pennsylvania, speculates that someone simply decided to create a St. Patrick's Day candy tailor-made for Philadelphia. ''In the Midwest, people favor chocolate,'' he explains. ''Out there, it is chocolate bunnies for Easter, but here, it's all about coconut cream eggs. Why not make 'em early?''
This year, Stutz will box up more than 5,000 pounds of its Irish potatoes. Outside Pennsylvania, though, the candy is either hard to come by (all 1,000 pounds of Irish potatoes made by Chicago's Fannie May Candies, for example, are shipped east) or unrecognizable (See's Candies of San Francisco dusts its with lots of cocoa and puts walnut-filled divinity inside). To avoid such ''impostors'', many addicted Philadelphia transplants (and Philadelphians) either mail-order from a reputable local producer or make their own. Family recipes have been handed down for generations, and variations are staggering. Most experts agree that coconut is essential for the classic version, but the center can be made with real mashed potatoes, or with that other familiar Philly favorite, cream cheese.