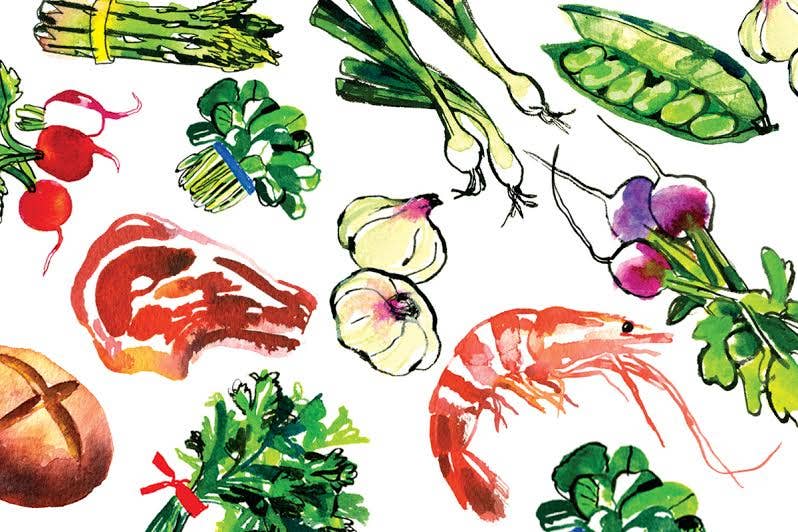 When I first moved to New York City, a friend gave me two pieces of advice: First, wear an expensive watch and you can wear anything; and second, when you have a lot of people over, buy a cheap ham.
I already had the watch (a graduation gift), but the cheap-ham tip threw me. Back home in Atlanta, our ham always appeared out of a metal canister—precooked and precut. I don't ever remember seeing a ham bone; ours was always just a hunk of pork, glazed with lots of honey and punctuated by occasional threads of fat. It involved a long drive across town to procure, and was always considered a treat.
Then, by chance, I learned the cheap-ham secret. At one of my first big-city parties—the hostess, the assistant to the associate editor of a fashion magazine, made up in style what she lacked in cash—what should I see center-stage on the buffet table but a giant ham, bone intact, brown as could be. And what ham! An orangey, brown-sugary, smoky taste permeated every bite. Guests hovered over it, and as the evening wore on, it became unrecognizable, thoroughly picked over. (Ham at home had always maintained its shape.)
My hostess, flush with the triumph of having entertained so well, was effervescent, and I, feeling particularly close to her that night, offered to stay behind and help clean up. "Carlotta," I begged, "please talk to me about your ham," and almost conspiratorially, she did, instructing me to buy the cheapest ham I could find, cook it for a long time, and glaze the hell out of it. "You can feed 30 people for $6.99!" she exhaled.
I admit that I've never been able to find a bargain like that, but 20 years later, I still swear by cheap ham. Several times a year, I trot one out. I cook them for cocktail parties. I take them as house gifts. I present them at buffets. There are no pineapple rings on my ham, and my glaze is so thick you can barely see the cloves. For all the pleasure it brings, nothing could be easier, and I will share the recipe—if you'll call it "Monte's Ham". (Carlotta became an editor, and now uses a caterer.) As for my expensive watch, well, it comes in handy for timing my ham.