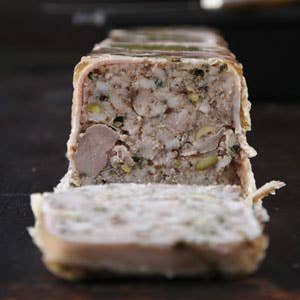 Culture
Winter Treasure: Homemade Pâté
Homemade pates offer an elegant way to start a holiday feast.
Conventional wisdom has long dictated that making pate, like making sausage, is a task best left to the seasoned charcutier or chef. And while artisanal butchers are embracing all kinds of handmade pates and savory terrines and mousses nowadays, these elegant dishes have yet to cross over into everyday kitchens on a large scale. Now the feasting season is upon us, and it's time for home cooks to throw open their doors. Rich yet not greasy or leaden, boldly seasoned yet nuanced in flavor, a good homemade pate served with crusty bread, cornichons, and mustard is, in my book, the best imaginable prelude to a big holiday meal or even just a hearty wintertime supper.
The range of dishes grouped these days under the category of pate is vast, encompassing everything from rustic pork spreads to refined mousses of truffles and goose liver. In France, where pate as we know it originated in the Middle Ages, a clear distinction once existed between terrines, which were customarily cooked in an earthenware mold (also called a terrine), and pates, which were baked in a pastry crust. But, like many cooks these days, I've taken to using the terms interchangeably.
While fish and vegetable terrines have their place on the table, during the winter I go for pates made with meat and poultry. The foundation of such pates is a forcemeat: a fine mixture of chopped, seasoned meat and liver, to which nuts, larger pieces of meat, and other ingredients—collectively called garniture—may be added for a more variegated texture. Indeed, when it comes to pates, texture is paramount. Some are velvety smooth; others, like the French country-style pork loaf known as pate de campagne, are coarser. And while assembling a pate doesn't take long, cooking it is a slow and gentle process; most recipes call for baking it in a water bath to ensure even cooking.
My first try at making pate de campagne—which consists of pork fat and shoulder (or just pork jowls), chicken livers, and eggs, all seasoned with garlic, thyme, and quatre epices (a blend of nutmeg, black pepper, cloves, and ginger)—yielded something that tasted good but had a pasty, uniform texture. For help, I turned to Richard Olney's Simple French Food (Macmillan, 1974), which recommends chopping the meat by hand rather than subjecting it to "the violence" of a food processor's blades, as I had done. On my second attempt, I took a middle road, chopping the meat and fat first and then quickly pulsing it in a food processor with the chicken livers, which I'd already pureed. The small adjustment produced impressive results: the pate was dotted with bits of flavorful pork and ivory white fat and was much more pleasurable to eat.
The next time I made pate, I decided to aim for something more sophisticated: one of squab and chanterelles. Mindful of Olney's advice, I took care not to overprocess the ingredients, and, sure enough, when I cut into my creation after letting it set, a beautiful mosaic of succulent meat and mushrooms revealed itself. Then I took a taste: bland. I'd underseasoned the dish. Pates are often served chilled, and cold inhibits flavor, so on my second try I added more salt and also some piment d'Espelette, a mild ground red chile. The outcome? Better, but short of perfect. So, I sought the help of a pro: Sylvain Gasdon, the charcutier at the New York City restaurant Bar Boulud and a protege of Gilles Verot, one of the best charcutiers in Paris. He imparted to me yet another secret of the pate maker's art: patience. The forcemeat and garniture must marinate with their seasonings for 48 hours and then sit in their mold for at least a day so that the flavors will meld. "It can't be rushed," he said.
After talking with Gasdon, I felt well armed for my next foray: a duck and pistachio pate. I let the duck meat bathe overnight in orange liqueur, garlic, and crushed bay leaves while the forcemeat—basically a pate de campagne—quick-cured with garlic, thyme, and spices. The next day I assembled my pate, adding pistachios and green peppercorns and lining the mold with bacon, before slow-cooking it in the oven in a water bath and then allowing it to set in the refrigerator overnight. The next afternoon, I tasted it. Marveling at the full-flavored delicacy, I was filled with the kind of contentment that can come only from waiting.