Special Feature: American Bread
The artisan bread movement has changed the course of baking in this country, making ever more delicious loaves possible for professional and hobbyist bakers alike.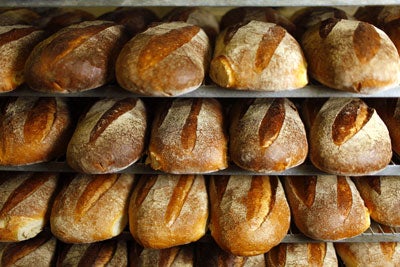 American Bread by William Alexander» A writer sets out to bake the perfect loaf of artisan bread at home after tasting a pain de campagne with, "a coarse texture that, while managing to be light and airy with plenty of holes, also had real substance. When you bit into it, it bit back. It was an utter surprise, an almost-mystical revelation, that bread could be this good."
GALLERY: 45 Loaves We Love by Meryl Rosofsky and Alex Rush» We sampled hundreds of loaves from artisan bakeries around the country to come up with this collection of favorites, each one worth seeking out.
GALLERY: Bread Recipes » Five recipes for artisan breads to bake at home.
Choosing Flour by Dana Bowen » The main ingredient in bread not only affects the loaf's flavor: it also helps determine its texture, appearance, moisture content, and nutritional quality.
Bread Science by Ben Mims » These terms help explain the scientific processes at work when making artisan bread; they can also help home bakers understand what to expect each step of the way.
A History of Bread in America by Marne Setton » Beginning in 1492 with Christopher Columbus bringing a small crock of sourdough starter to the New World until today, we look at the major landmarks in the the history of bread baking in America.
The SAVEUR Bookshelf: Bread Books by Marne Setton » Of the dozens of books devoted to bread on our shelves, a few proved indispensable as we developed the recipes in this special feature. Any baker would do well to keep these four books on their shelf.
20 Great Bread Bakeries by Meryl Rosofsky and Alex Rush When researching this special feature, twenty bakeries across the country stood out above the rest as pioneers and role models in the American artisan bread movement.