The SAVEUR Bookshelf: Bread Books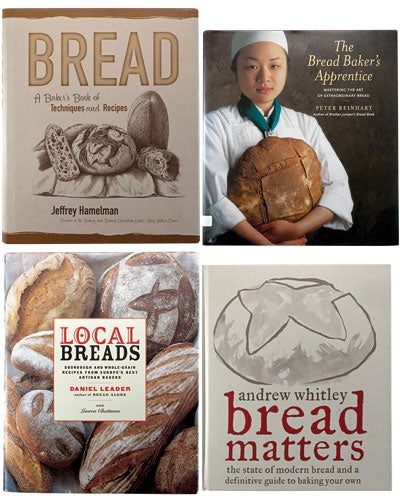 We may earn revenue from the products available on this page and participate in affiliate programs.
Of the dozens of books devoted to bread on our shelves, a few proved indispensible as we developed the recipes in the Issue 147 special feature, American Bread. Any baker would do well to keep the uber-comprehensive Bread: A Baker's Book of Techniques and Recipes (John Wiley & Sons, Inc., 2004) at hand. The instructions from author Jeffrey Hamelman, a certified master bread maker, are blessedly detailed, with illustrations demonstrating the proper way to knead, braid (30 pages on this alone), and do most anything else required to transform a mass of dough into a beautiful loaf.
For the beginner, The Bread Baker's Apprentice (Ten Speed Press, 2001), by baking expert Peter Reinhart, provides an accessible way in, first laying out the basic principles behind baking any bread. Then it provides more than 50 formulas for specific breads, including brioche, bagels, and the perfect Tuscan loaf.
Good bread always tells a story about where it comes from, and in Local Breads (W.W. Norton & Co., 2007), Daniel Leader, founder of Bread Alone Bakeries in upstate New York, travels across Europe to investigate the regional traditions that were the inspiration for him and his fellow pioneers in the American artisan bread movement. One chapter finds him in the wheat fields of Italy's Murgia plain; another, in Grimminger pretzel bakery in Munich. Along the way, he lays out the recipes collected in his travels with utter clarity.
If it's possible, after reading these paeans to the power of bread made by hand, to wonder why all of this is important, look no further than Bread Matters (Andrews McMeel Publishing, 2009). British baker Andrew Whitley gets down to brass tacks about what exactly makes artisan bread healthier and tastier, then offers such alluring cases in point as arkatena from Cyprus made with chickpea flour and fennel seeds, a coriander-laced Russian rye called Borodinsky, and dozens of others, both savory and sweet.
See more stories from our special feature on American bread »