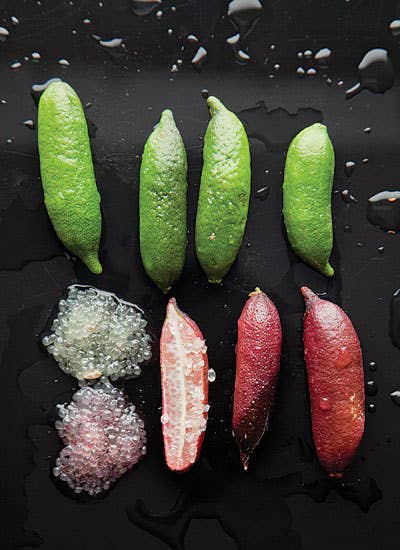 Techniques
Tiny Giant: The Beauty of Finger Limes
A small lime delivers huge flavor to a growing number of chefs
Overlapping like dominoes, eight gleaming slices of Atlantic bigeye tuna occupied the plate. On top was a melange of exotic citrus, including three small mounds of tiny, translucent, pale green spheres that exploded in my mouth, enhancing the dish with stunning bursts of lime.
That was this past spring at the Philadelphia restaurant JG Domestic, and though I had first sampled finger limes about a year earlier in Adelaide, Australia, that citrus blast came, once again, as a pleasant shock. Native to Australia, the finger lime, Citrus australasica, is a pinky-finger-shaped member of the citrus family. Inside its fragrant skin is a cluster of pearl-like vesicles. After my first tastes, I understood why chefs call these "citrus caviar": for their roe-like crunch, and the way they pop in the mouth, releasing hits of acidity.
Fresh Australian finger limes aren't approved for import to the States, so most of America's supply comes from a few California growers. In season, from late summer to mid-winter, the fruit can be found at West Coast farmers' markets, grocers like Whole Foods, and a growing number of restaurants; chefs from all over have caught on to the limes' charms. At The Fifth Floor, a restaurant in San Francisco, chef David Bazirgan uses them to add tangy, textural contrast to the rich beurre blanc that tops sauteed scallops. Australian chef Andrew Fielke mixes the capsules into cocktails at home to add a concentrated citrus note. In Paris, Nicolas Berger, pastry chef at Alain Ducasse at the Plaza Athenee, uses finger limes as a bright, finishing touch in both fruit compotes and rich chocolate desserts. Berger says, "It's the fleur de sel for the pastry chef."
Experimenting in my own kitchen, I folded the caviar into a homemade tartar sauce for salmon cakes, which added a beguiling pop-pop-pop. Even in this humble application, finger limes pack a punch.