Coconut Bowls
Coconut shells gets new life in the form of vibrant bowls.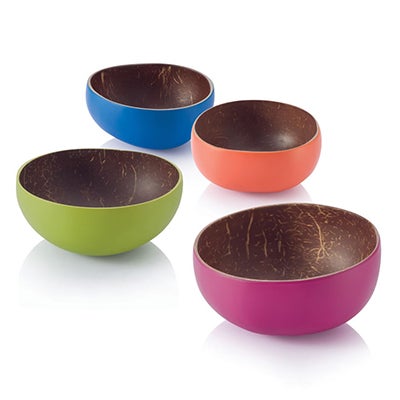 We may earn revenue from the products available on this page and participate in affiliate programs.
I have a new favorite morning yogurt dish: Bambu's coco mini bowl. Made out of reclaimed coconut shells are hand coiled with small strips of bamboo and finished with a layer of food safe, waterproof lacquer that comes from the cashew tree (who knew?). My four mini bowls are in daily use in my kitchen, where they keep prepped vegetables in place or act as perfectly-sized snacking bowls. Their light weight and small size (approx. 4 x 2 inches) also makes them ideal to pack for picnics. And the best part: the set's four different colors means I can choose a bowl based on my daily mood. Right now, I'm feeling the cobalt blue.
_ Coco Mini Bowl (set of 4), $48 at bambuhome.com _