Glass Refrigerator Pitcher Set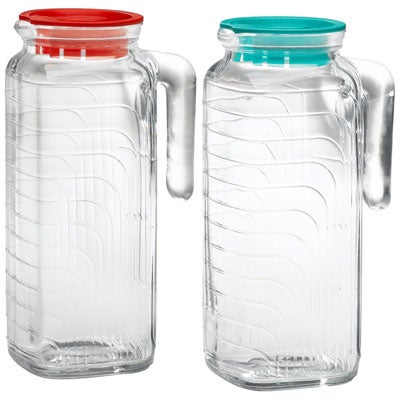 We may earn revenue from the products available on this page and participate in affiliate programs.
Throughout the summer, my fridge is never without one of these simple glass pitchers full of fresh-brewed iced tea. I love the way the narrow square shape fits perfectly in the bottom shelf of the fridge door, with its easy-to grab handle sticking out and ready to be the first thing I can grab without thinking in my sleepiest morning state. Made of thick tempered glass (with a charmingly vintage design), I can fill it with boiling water and tea bags and stash it in the fridge before bed without worrying about it breaking. Since they come in sets of two, keep one for yourself and give the other as the perfect summer hostess gift.
Bormioli Rocco Gelo 2-Piece Glass Pitcher Set, $13.37 at KitchenBusy.com