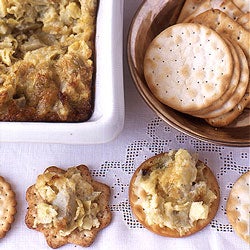 This quintessential appetizer is served all across the South, from New Orleans, Louisiana, to Norfolk, Virginia.
Yield: makes 3 cups
Ingredients
3-4 cups cooked artichoke hearts or 15-oz. cans artichoke hearts, drained and chopped
1 cup grated parmesan cheese
1 cup mayonnaise
Minced onions to taste
Instructions
Preheat oven to 350°. Combine the artichokes, cheese, and mayonnaise, mixing well. Stir in the onions to taste. Spoon into an 8″ square baking dish. Bake until bubbly and lightly browned. Serve with assorted crackers.