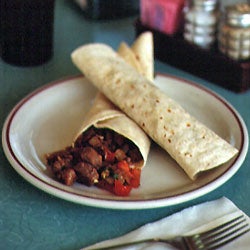 The secret to these delicious burritos is in the cut of beef: Use the tri-tip—also known as the triangle—part of the bottom butt of the sirloin tip.
Yield: makes 4-6 Burritos
Ingredients
2 tbsp. vegetable oil
1 yellow onion, peeled and diced
1 lb. tri-tip, trimmed and cut into 1⁄2″ dice
2 fresh jalapeños, seeded and chopped
2 tomatoes, diced
1 clove garlic, peeled and minced
2 cubes beef bouillon
Salt and freshly ground black pepper
<a href="https://www.saveur.com/article/Recipes/Flour-Tortillas">Flour/ Tortillas</a>
Instructions
Heat vegetable oil in a large skillet over medium heat. Add onions and cook until translucent, about 20 minutes.
Add tri-tip and jalapeños to onions. Increase heat to high. Brown meat for 2 minutes, then stir in tomatoes and garlic. Crumble in bouillon cubes, and season to taste with salt and pepper. To serve, wrap in warm tortillas.