Big Jim Chiles Stuffed with Corn and Jack Cheese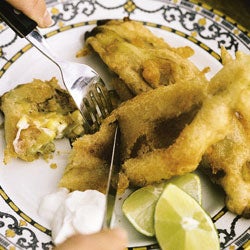 While exploring the regional food possibilities of Colorado, writer Eugenia Bone created this dish to take advantage of the sweet corn and mild, green, thick-fleshed big jim chiles she encountered. If the big jim chiles are hard to find, poblanos are a good substitute.
Big Jim Chiles Stuffed with Corn and Jack Cheese
This Colorado twist on a Mexican favorite uses surprisingly mild big jim chiles to delicious effect.
Ingredients
1 1⁄2 cups flour
1 tsp. baking powder
Salt
1 (12-oz.) bottle beer
2 tbsp. extra-virgin olive oil
1 small yellow onion, peeled and finely chopped
1 clove garlic, peeled and minced
1 1⁄2 cups fresh corn kernels (about 4 ears)
Freshly ground black pepper
1⁄2 cup grated monterey jack
6 medium big jim or poblano chiles, charred and peeled
Corn oil
Sour cream and lime wedges
Instructions
Combine 1 cup of the flour, the baking powder, and 1⁄2 tsp. salt in a large bowl. Gradually add beer, whisking until batter is smooth. Cover with plastic wrap and refrigerate for 1 hour.
Heat olive oil in a medium skillet over medium heat. Add onions and garlic and cook until soft, 4–5 minutes. Add corn and cook for 2–3 minutes. Season to taste with salt and pepper, allow to cool, add cheese, and set aside.
Make an incision the length of each chile and remove stems and seeds. Stuff corn filling into chiles, then close with toothpicks.
Pour oil into a large, deep skillet to a depth of 1 1⁄2". Heat over medium heat until hot. Dredge chiles in remaining 1⁄2 cup flour, shake off excess, dip chiles into batter, and fry until golden, about 1 minute per side. Drain on paper towels and season with salt. Serve with sour cream and lime wedges, if you like.