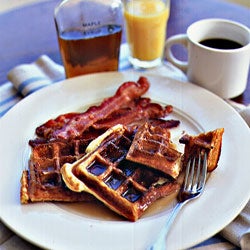 We craved waffles after visiting a maple sap farm in New Hampshire; when it comes to holding syrup, there is no match for the deep grids of a perfectly crisp one.
Buttermilk Waffles
When it comes to a sumptuous, satisfying breakfast, few things match the perfection of a crisp waffle.
Ingredients
1 cup all-purpose flour
1 tbsp. sugar
1 tsp. baking powder
1 tsp. baking soda
1⁄2 tsp. salt
3 eggs, separated
1 cup buttermilk
2 tbsp. butter, melted and cooled
Instructions
Sift flour, sugar, baking powder, baking soda, and salt together into a large mixing bowl.
Beat egg yolks in a small mixing bowl and add buttermilk and butter. Add to flour mixture, stirring until just combined.
Beat egg whites in a medium mixing bowl until stiff and fold into flour mixture. Batter will be airy.
Spread batter over three-quarters of the surface of a hot, lightly greased waffle iron, close lid, and cook until brown and crisp, about 5 minutes. Serve with plenty of butter and maple syrup.