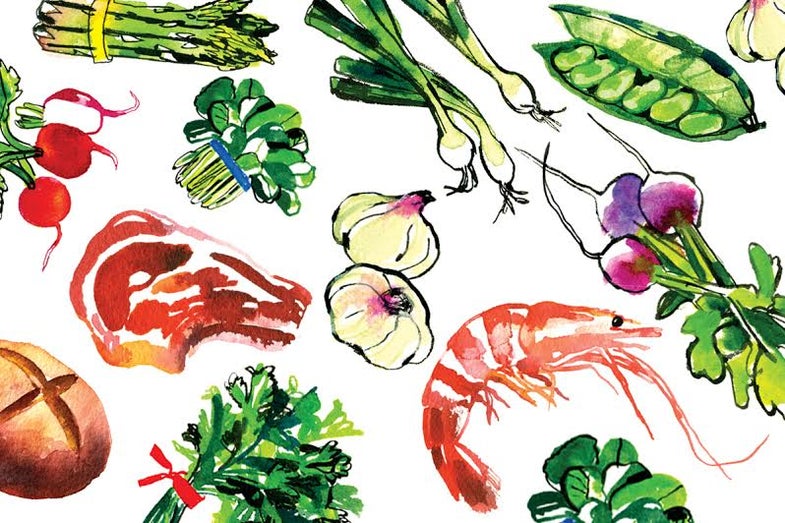 To clean prickly pear cactus paddles, which bristle with thorns, grip them by their base and shave off the spines with a knife held flush against the paddles. (Protect your hands with paper towels or rubber gloves.)
Cactus Salad
Cactus paddles have a flavor that is a cross between a bell pepper, asparagus, and green beans, with a slightly tangy taste.
Ingredients
5 medium cactus paddles (about 1 1⁄2 lbs.), trimmed, cleaned, and coarsely chopped
2 Tbsp. extra-virgin olive oil
2-3 Tbsp. fresh lime juice
1 small white onion, thinly sliced
1 clove garlic, finely chopped
1 jalapeño, stemmed, seeded, and finely chopped
Salt
1 medium tomato, cored, and sliced
2⁄3 cup crumbled queso
1⁄4 cup chopped fresh cilantro
Instructions
Bring a large pot of salted water to a boil. Add cactus paddles, reduce heat to medium, and boil until tender, about 20 minutes. Drain paddles and rinse; transfer to a bowl.
Add olive oil, lime juice, onions, garlic, jalapeño, and salt to taste; stir well. Transfer salad to a platter and top with tomatoes, crumbled queso, and fresh cilantro. Refrigerate for 1 hour.