Foil-Roasted Mushrooms with Hazelnuts & Chives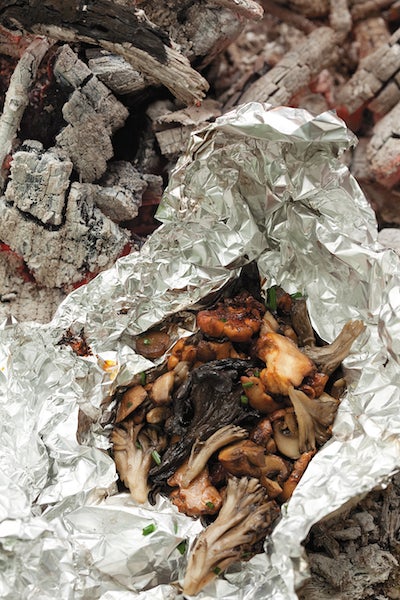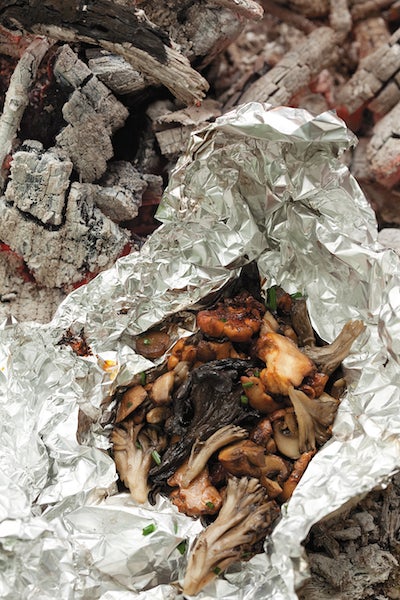 In this side dish from Sarah Huck and Jaimee Young's book Campfire Cookery: Adventuresome Recipes and Other Curiosities for the Great Outdoors (Stewart, Tabori & Chang, 2011), toasted hazelnuts adds a satisfying crunch to a wild mushroom medley.
Foil-Roasted Mushrooms with Hazelnuts & Chives
The mushrooms in this woodsy side dish are accompanied by crunchy toasted hazelnuts.
Ingredients
8 oz. mixed wild mushrooms, such as hen of the woods, cinnamon caps, yellow cap chanterelles, black trumpets, and hedgehog mushrooms, wiped clean with a soft, dry cloth and sliced (about 4 cups)
4 tbsp. (1/2 stick) unsalted butter, cut into cubes
2 tbsp. chopped fresh chives
3⁄4 tsp. kosher salt
1⁄2 tsp. freshly milled black pepper
1⁄2 cup chopped hazelnuts, fire-toasted *
Instructions
Prepare a high-heat fire, with the flames licking the grill grate. Let it burn steadily for 30 minutes.
Place the mushrooms in the center of a large sheet of foil. Dot the mushrooms with the butter and sprinkle on the chives, salt, and pepper. Fold the edges of the foil securely over the mushrooms, leaving no tears or gaps in the enclosure, and place the packet upon the grill grate. Cook until the mushrooms are tender and turning golden, about 15 minutes. Unwrap the foil and continue roasting upon the grill grate or, if one desires, nestle the packet in hot embers to the side of the fire until the juices thicken and evaporate, 10 minutes longer. Transfer the mushrooms to a bowl and toss in the toasted hazelnuts to serve.
*To toast hazelnuts, place a cast-iron skillet over a medium-high flame. Add the hazelnuts and cook, shaking the pan occasionally, until the nuts are golden and the skin has begun to crackle and flake loose, 7 to 10 minutes. Keep the nuts under vigilant observation to ensure that they do not scorch. Let them cool completely before chopping.