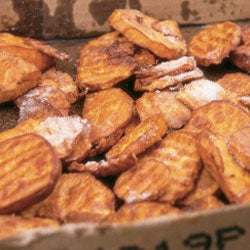 The Cajun pig parties known as boucheries are festive, often raucous, and generally casual—hence the popularity of side dishes that don't require utensils, like these sweet potatoes. Use a crinkle-cut knife to give them a little flair, if you like.
Fried Sweet Potatoes
Try these tasty goodies for a variation on standard fried potatoes.
Ingredients
3 lb. lard
4 sweet potatoes
4-6 tbsp. sugar
Salt
Instructions
Heat lard in a wide, medium heavy-bottomed pot over medium-high heat until temperature reaches 350° on a candy thermometer. Meanwhile, peel sweet potatoes, then cut each crosswise into ¼"-thick slices.
Working in batches, deep-fry sweet potatoes, stirring occasionally with a slotted metal spoon, until golden and crisp, 4–5 minutes per batch.
Transfer sweet potatoes with a slotted spoon to paper towels to drain. Sprinkle sugar and salt to taste over sweet potatoes while still hot. Serve immediately.