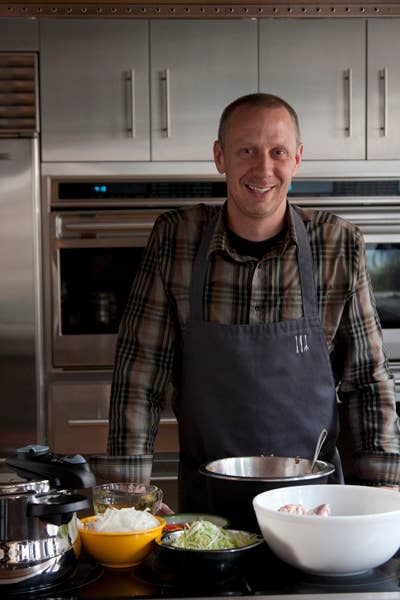 Techniques
From the Test Kitchen: Perfect Pressure Cooker Chicken Stock
When you walk into a professional kitchen, invariably the first thing you notice is the wonderful aroma of stock that fills the air. But as much as I love that smell, it means that the stock's aroma compounds are escaping into the air rather than staying where they should be: in the stock itself. It was at Heston Blumenthal's Fat Duck Experimental Kitchen in Bray, England, where I worked as Head Chef of Research and Development, that I learned how to solve that problem. By using a pressure cooker, you can make flawless, aromatic stocks — and do it in a fraction of the time of the conventional methods that have been used for hundreds of years.
Here's how it works: The pressure cooker's tight-fitting lid changes the atmospheric pressure inside the pot when it is heated and fully pressurized, with pressure being forced from the top of the lid down to the same degree that it comes up from the heat source. This has two results: first, the rules of our atmosphere no longer apply, and water can reach temperatures much higher than 212°F without boiling; second, all the built-up pressure, which normally would exert in the form of simmering liquid, now gets to work on extracting flavor, nutrients, and protein from the products submerged in the liquid. Because there's no air flow or release of pressure, there's no way for the water to move, simmer, or evaporate — the liquid heats up well above boiling temperature while remaining perfectly still, its intense heat and pressure extracting flavor so smoothly that the liquid remains clear and clean.
This method of flavor extraction is also astonishingly efficient: the high temperature and intense pressure draw out the flavors and convert the collagen in meat and bones to gelatin in less than 1 hour.
Here's how to do it:
1. Heat 4 tbsp. grapeseed or canola oil in a 6-qt. pressure cooker over medium high heat. Working in batches, add 1 ½ lbs. chicken wings and cook, turning once, until browned. Transfer chicken wings to a bowl. (You can also substitute the carcass of a roasted turkey or chicken.)
2. Add 2 lbs. ground chicken (dark or white meat, or both), and cook, stirring occasionally, until browned. Transfer ground chicken to bowl with chicken wings.
3. Add 1 thinly sliced onion, 2 thinly sliced large carrots, and 1 thinly sliced leek (white and light green parts only), reduce heat to medium, and cook, stirring occasionally, until lightly browned. (Note: Using thinly sliced vegetables, ground meat and small bones maximizes the surface area of the ingredients exposed to liquid and aids in the extraction of their flavors.)
4. Add 6 oz. white wine and cook, stirring and scraping up any browned bits from bottom of pan, until almost all of the moisture has been evaporated.
5. Return the chicken wings and browned ground chicken, along with 1 lb. raw ground chicken to the pot. Cover with 8 cups water. (The raw ground chicken will help to clarify the stock.)
6. Cover pressure cooker with the lid and seal according to manufacturer's directions. Heat on high for five minutes; then reduce heat to low and let cook for 45 minutes. (If the pressure builds too much and steam escapes rapidly from release valve, remove pot from heat for a few minutes to prevent over pressurizing. Return to low heat when pressure stabilizes.)
7. Remove pot from the heat; allow pressure cooker to de-pressurize but do not take off the lid. The cooling process will decrease pressure naturally, about 20 minutes. This depressurizing also allows the extraction process to continue gently. 8. Once the pot has fully depressurized, remove the lid.
9. Strain the stock through a fine mesh strainer set over a bowl or a colander lined with cheesecloth.
10. The stock will yield 2 quarts. Keep covered in the refrigerator for up 4 days or freeze and use within 6 months.