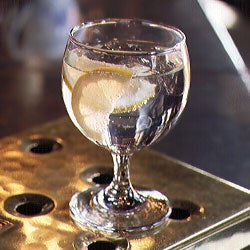 Gin was invented in Holland, where it was called jenever (for the juniper berries with which it is flavored), and made its way to England in the 1600s. The gin and tonic was almost certainly developed in the tropics by the English, where quinine-dosed tonic water would have been valued for its medicinal properties as well as its flavor. The nicely bitter flavor of tonic offsets gin's faintly herbal flavor admirably.
Yield: makes 1 Cocktail
Ingredients
1 oz. dry gin
4 oz. tonic
1 slice lemon
Instructions
Fill a tall glass halfway with ice. Add gin and tonic and garnish with lemon. Leave extra tonic nearby to add at will.