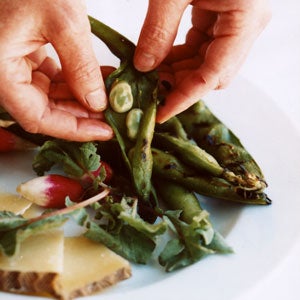 Choose tender, bright green pods with beans that feel fresh and pliable through the pod skin.
Grilled Whole Favas
Don't bother with utensils when eating this dish—your oily, salt-covered fingertips only enhance the experience.
Ingredients
2 lb. rinsed and dried whole fava pods
2-3 tbsp. extra-virgin olive oil
Salt
Instructions
Prepare a charcoal grill. Meanwhile, toss fava pods with oil in a large bowl. Season to taste with salt and toss again.
Grill favas in a single layer over hot coals. They should sizzle and may smoke a bit, but don't let them flare up. Grill until bold black blisters appear on the grill side, 3–4 minutes, then turn them over and grill 2–4 minutes more.
Pile favas onto a platter and let cool for a few minutes.
To eat, pry open pods, pop out beans, pinch off tip of wrinkled skin with your fingernail, and squeeze out tender, fragrant fava. Lick your oily, salty fingertips; it's part of the dish. Serve with radishes, sheep's milk cheese, and slices of salami or prosciutto, if you like.