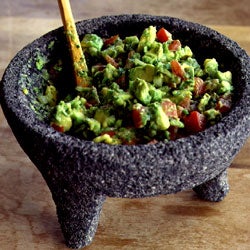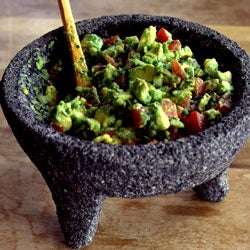 The Aztecs made great guacamole. Well, actually, it was ahuacamolli—literally, "avocado mixture"—which they concocted by tossing buttery, nutty chunks of avocado with green chiles, tomatoes, and fresh local herbs. Today, most guacamoles also include minced white onion and cilantro, though some Mexican cooks add tomatillos or even finely sliced zucchini. For the most part, guacamole has remained simple in its homeland, where it's generally served as a garnish for other dishes—not as an appetizer with chips. Our favorite guacamole (in America at any rate) comes from Josefina Howard, co-founder of Rosa Mexicano in New York City, who advised following the Aztecs' lead: use a molcajete (mortar) made of volcanic stone, and keep it simple—additional ingredients just muddle it up.
Yield: makes 1-2 Cups
Ingredients
1⁄4 cup peeled, finely chopped white onions
1 jalapeño, seeded and minced
1 tbsp. finely chopped fresh cilantro
Salt
1 medium hass avocado
1 small tomato, coarsely chopped
Instructions
Combine half the onions, half the jalapeño, and half the cilantro in a mortar or food processor, season with about 1⁄2 tsp. salt, then grind or pulse into a smooth paste. Transfer to a serving bowl.
Cut avocado in half lengthwise, then remove and discard pit. Make crosshatch incisions in avocado pulp with a paring knife. Scoop pulp out with a spoon, then combine with onion mixture. Mix well with a wooden spoon.
Stir in remaining onions, jalapeño, and cilantro, then gently mix in tomatoes. Adjust seasoning with salt and serve immediately.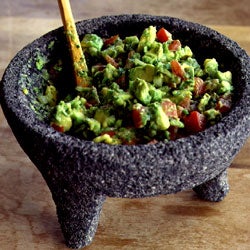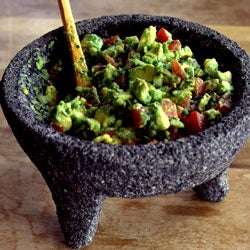 Guacamole
Using simple ingredients is the key to this Mexican favorite. See the recipe for Guacamole »