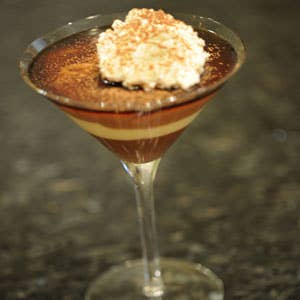 This chocolate dessert is rich, dark, decadent, and ever so slightly spicy.
1 lb. white chocolate, chopped
1 lb. bittersweet chocolate, chopped
1 lb. milk chocolate, chopped
6 tbsp. brandy or cognac
6 tbsp. unsalted butter, room temperature
6 large egg yolks
6 tbsp. sugar
1 1/4 cup whipping cream, chilled
1 tsp. Tabasco sauce
1 1/2 cups heavy whipping cream
24 oz. chocolate liqueur
Cocoa powder for a garnish
*NOTE: Complete the recipe three times, using a different chocolate each time.
1. Combine white chocolate, 2 tbsp. of brandy or cognac, and 2 tbsp. of water in a medium mixing bowl. Place bowl over pan of simmering water and heat. Stir mixture until smooth, then remove from atop pan. Stir in 2 tbsp. of the butter until it is blended. Allow mixture to cool.
2. In a small metal bowl, whisk 2 egg yolks into 2 tbsp. of sugar. Set bowl over a pan of simmering water. Heat, whisking constantly, until mixture reaches 160°F on instant-read or candy thermometer. Immediately remove from heat and whisk for five minutes. Then slowly pour the egg mixture into the chocolate mixture, stirring constantly until well blended. Cover and reserve at room temperature for later layering.
3. Repeat steps 1 and 2 using bittersweet and milk chocolates.
4. Pour cream into a large chilled bowl and beat until stiff. Gently fold Tabasco sauce into the whipped cream until it is evenly blended. Set aside a small amount of the whipped cream for garnish. Then divide the remaining cream into thirds. Fold one third into each of the three chocolate mixtures.
5. Chill 12 8 oz. glasses. Fill each glass one-third deep with the dark chocolate mixture. Top that with layers of the white chocolate and milk chocolates mixures. Allow the filled cups to chill for at least two hours.
6. To serve, top glasses with 1 to 2 ounces of chocolate liqueur, a dollop of fresh whipped cream, and a dusting of cocoa powder.