Recipes
Kale and Chicken Brown Rice Salad with Cherries
Serves

serves 4 as Main Course or 6 as an Appetizer or Side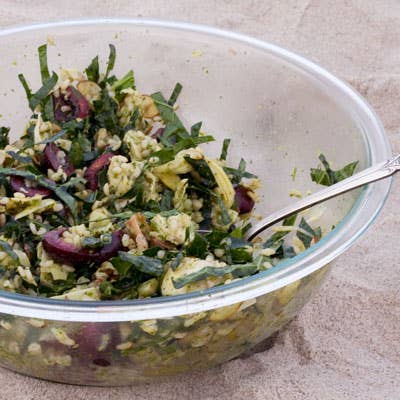 This summery salad, which pairs chicken with thin ribbons of raw kale and brown rice, offsets a garlicky pesto dressing with sweet red cherries. Best at room temperature, it keeps well in the fridge for up to three days, and travels happily, whether in lunchboxes or picnic baskets.
Ingredients
1 cup loosely packed basil leaves
1⁄2 cup roughly chopped garlic scapes (about 4 scapes), or ¼ cup young, green garlic
1⁄2 cup extra virgin olive oil
Juice of 1 lemon
1 1⁄2 tbsp. sugar
1 cup cooked brown rice
2 boneless, skinless chicken breast halves, cooked and torn into bite-sized pieces
Fresh-ground black pepper
1 (8 oz.) can quartered artichoke hearts, rinsed and drained
2 cups chiffonaded lacinato kale (stems removed, leaves chopped into thin horizontal ribbons)
1⁄2 cup slivered almonds
2 cups cherries, pitted and halved
Instructions
Step 1
Make the garlic scape dressing: In a food processor, pulse the basil, garlic scapes, olive oil, lemon juice, and sugar until emulsified. Season with salt and pepper to taste.
Step 2
Assemble the salad: In a large bowl, mix together the rice, chicken, and kale, toss with dressing until well coated. Gently fold in the artichoke hearts, almonds, and cherries. Taste and adjust seasoning as necessary. Keep chilled until serving.