Recipes
Lemony Fried Cauliflower
Fry your florets for this riff on a classic Israeli street food.
Serves

serves 4-6

Cook

40 minutes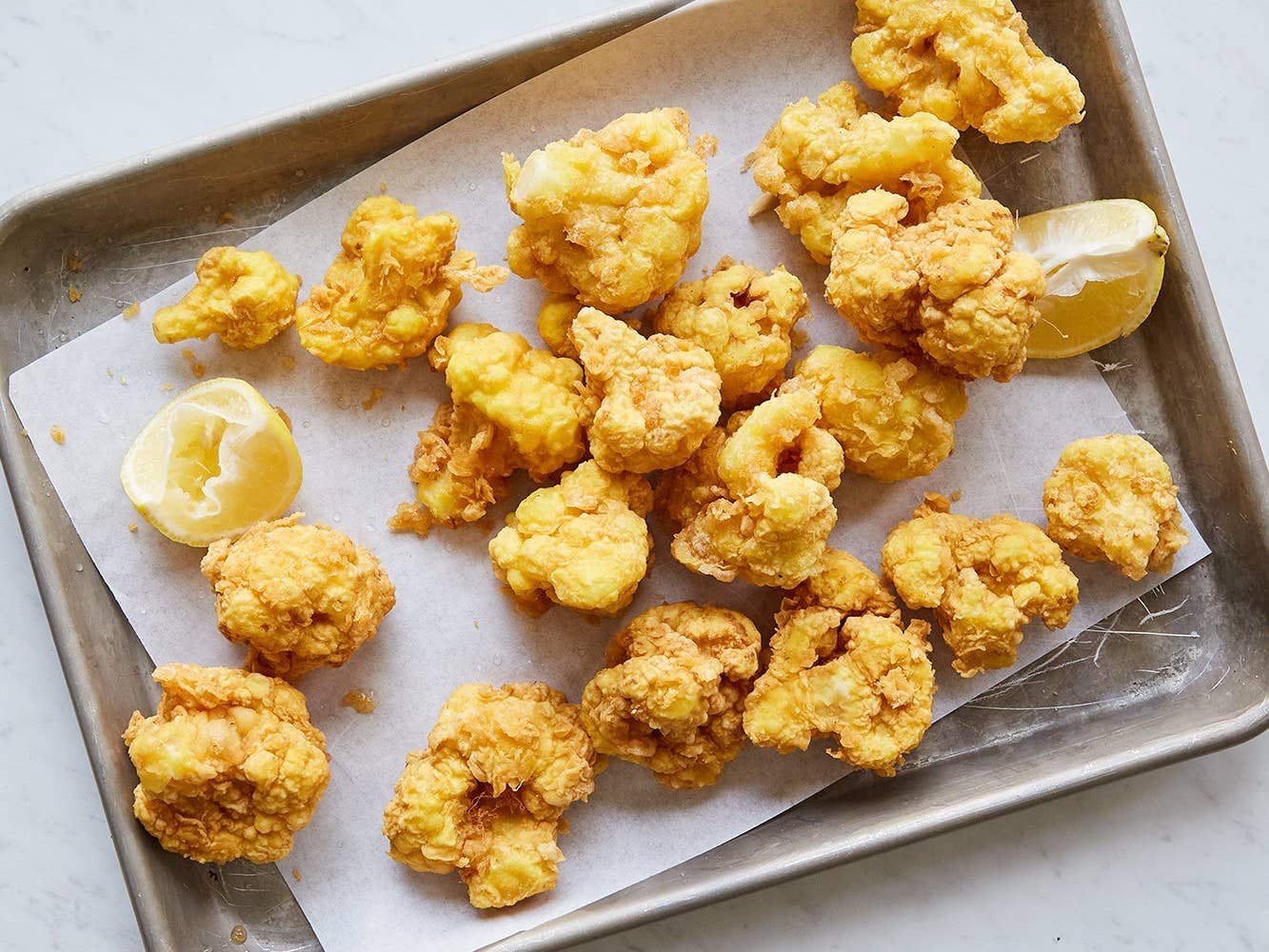 For culupidia frita con limón, a popular street food in Israel, florets are coated in a flour and egg batter, and then fried. The recipe comes from Jewish cookbook author Leah Koenig, who says she showers each bite with fresh lemon juice. Whether fried, steamed, roasted, or stewed, cauliflower takes well to almost any method. Here are 19 more ways we love to cook it.
Ingredients
1 head cauliflower (2 lb.), cored and cut into 1-in. florets
Vegetable oil, for frying
1½ cups all-purpose flour
1 tbsp. finely grated lemon zest
1 tsp. cayenne pepper
1 tsp. fine salt, plus more for serving
1 tsp. turmeric
Freshly ground black pepper
5 large eggs
Chopped parsley, for garnish
Lemon wedges, for squeezing
Instructions
Step 1
Fill a large bowl with ice water and set aside. Fill a large Dutch oven with water and bring it to a boil over high heat. Add the cauliflower and cook until just tender, about 5 minutes. Drain the cauliflower and transfer it to the ice bath to cool, about 2 minutes. Use a slotted spoon to transfer the cauliflower to a paper towel-lined baking sheet, and pat all over with paper towels to dry. Rinse and thoroughly dry the Dutch oven and return it to the stove.
Step 2
In a medium bowl, beat the eggs until combined, and set aside. Into the empty Dutch oven, pour the oil to a depth of 2 inches, attach a deep-fry thermometer, and turn the heat to medium-high. While the oil is preheating, in a shallow baking dish, whisk together the flour, lemon zest, cayenne, salt, turmeric, and black pepper to taste.
Step 3
Line a baking sheet with paper towels. When the thermometer reads 350°F, dredge a few cauliflower florets in the flour mixture, shaking off any excess. Transfer to the egg to coat, then return to the flour mixture to dredge again. Fry, flipping occasionally, until crisp and golden, about 45 seconds. Using a slotted spoon, transfer the cauliflower to the baking sheet and season with salt and black pepper while hot. Working in batches, repeat with the remaining cauliflower.
Step 4
To serve, transfer the cauliflower to a platter, sprinkle with the parsley, and serve with lemon wedges, for squeezing.