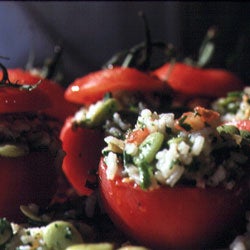 This recipe showcases the delicateness of lima beans, contrasted against the tangy sweetness of fresh tomato. If the tomatoes still have their stems, take care to leave them intact for the presentation.
Limas and Tomatoes
A delectable combination of delicate limas and tangy tomatoes, this dish is like summertime on a plate.
Ingredients
6 ripe tomatoes
Coarse salt
2 cups cooked baby lima beans
1 cup cooked rice
1 cup shredded arugula
1⁄4 cup chopped fresh parsley
1⁄4 cup chopped fresh chives
6 tbsp. extra-virgin olive oil
2-3 tbsp. lemon juice
Freshly ground black pepper
Instructions
Blanch tomatoes in a large pot of boiling water for 30 seconds. Slip off skins and cut off the top quarter of each tomato on the stem end, saving tops. Carefully scoop out and reserve seeds and flesh. Lightly salt tomatoes inside and out. Turn upside down and allow to drain.
Combine reserved tomato seeds and flesh, lima beans, rice, arugula, parsley, and chives in a medium bowl. Drizzle 4 tbsp. of the olive oil and 2 tbsp. of the lemon juice into the vegetables, add a few grinds of pepper, and mix lightly. Taste and add more lemon juice, salt, or pepper as needed.
Fill tomato shells with lima bean mixture. Place tomatoes on a platter, replace tops, and scatter leftover beans around them. Drizzle with remaining 2 tbsp. olive oil.