Recipes
Lebanese-Style Green Beans With Chickpeas in Olive Oil (Loubieh Wa Hommus Bi-Ziet)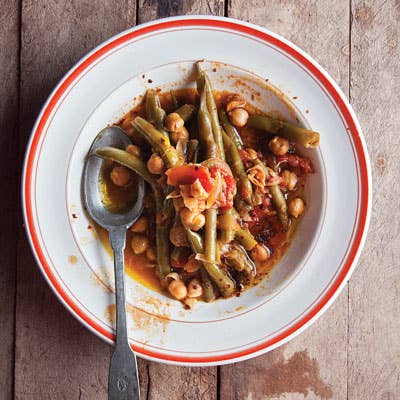 Slow-cooked vegetable dishes like this one, a cumin-and paprika-spiced stew of beans and tomatoes, are a standby in many parts of the Middle East. Here, tomatoes and green beans release some of their flavor into the cooking liquid, creating a rich broth. This recipe first appeared in our October 2011 issue along with Lesley Porcelli's story The Soft Approach.
Ingredients
1⁄4 cup olive oil
2 tsp. cumin seeds
4 cloves garlic, peeled and finely chopped
1 medium yellow onion, thinly sliced
Kosher salt and freshly ground black pepper, to taste
2 tbsp. tomato paste
1 tbsp. paprika
1 1⁄2 lb. green beans, strings removed
(1) 28 oz. can whole, peeled tomatoes with juice, crushed by hand
(1) 15 oz. can chickpeas, drained and rinsed
Instructions
Step 1
Heat the oil in an 8-qt. saucepan over medium-high heat; add cumin seeds and cook, stirring often, until fragrant, about 1 minute.
Step 2
Add the garlic and onion, season with salt and pepper, and cook, stirring often, until soft and lightly browned, about 12 minutes.
Step 3
Add the tomato paste and paprika, and cook, stirring occasionally, until tomato paste is lightly caramelized, about 2 minutes. Add the green beans, tomatoes, chickpeas, and 3 cups water, and bring to a boil. Reduce the heat to medium-low, and cook, partially covered, stirring occasionally, until very tender, about 1 hour. Let sit for at least 15 minutes before serving to allow the flavors to meld.