Lebanese-Style Green Beans With Chickpeas in Olive Oil (Loubieh Wa Hommus Bi-Ziet)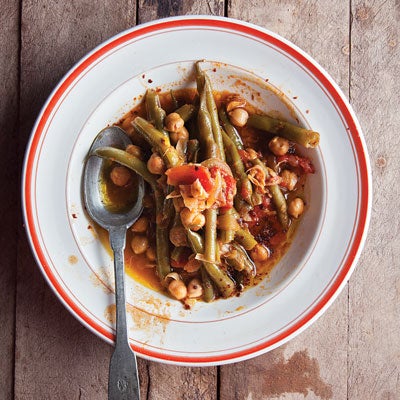 Slow-cooked vegetable dishes like this one, a cumin-and paprika-spiced stew of beans and tomatoes, are a standby in many parts of the Middle East. Here, tomatoes and green beans release some of their flavor into the cooking liquid, creating a rich broth. This recipe first appeared in our October 2011 issue along with Lesley Porcelli's story The Soft Approach.
Yield: serves 4-6
Ingredients
1⁄4 cup olive oil
2 tsp. cumin seeds
4 cloves garlic, peeled and finely chopped
1 medium yellow onion, thinly sliced
Kosher salt and freshly ground black pepper, to taste
2 tbsp. tomato paste
1 tbsp. paprika
1 1⁄2 lb. green beans, strings removed
(1) 28 oz. can whole, peeled tomatoes with juice, crushed by hand
(1) 15 oz. can chickpeas, drained and rinsed
Instructions
Heat the oil in an 8-qt. saucepan over medium-high heat; add cumin seeds and cook, stirring often, until fragrant, about 1 minute.
Add the garlic and onion, season with salt and pepper, and cook, stirring often, until soft and lightly browned, about 12 minutes.
Add the tomato paste and paprika, and cook, stirring occasionally, until tomato paste is lightly caramelized, about 2 minutes. Add the green beans, tomatoes, chickpeas, and 3 cups water, and bring to a boil. Reduce the heat to medium-low, and cook, partially covered, stirring occasionally, until very tender, about 1 hour. Let sit for at least 15 minutes before serving to allow the flavors to meld.