Recipes
Papas Rellenas de Picadillo (Meat-Stuffed Potato Croquettes)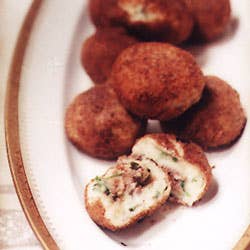 These croquettes can also be filled with chicken or tuna.
Ingredients
2 lbs. russet potatoes, peeled and quartered
Salt
3 eggs, separated
1 pinch nutmeg
1⁄4 cup minced fresh parsley
Vegetable oil
1 cup <a href="https://www.saveur.com/article/Recipes/Picadillo">Picadillo</a&gt/;
1 cup bread crumbs
Instructions
Step 1
Put potatoes in a medium pot, cover with cold salted water, and simmer over medium heat until soft, 25-30 minutes. Drain, then mash with a potato masher until smooth. Set aside to cool. Beat yolks into potatoes one at a time, add nutmeg and parsley, and season to taste with salt. Whisk whites in a bowl just until soft peaks form, then set aside.
Step 2
Oil palms of your hands, then shape 1⁄4 cup of potato mixture into a ball. Make an indentation in the center of the ball, then flatten it into a 4" concave disk about 1⁄2" thick. Fill center with 1 tbsp. picadillo. Cup potato mixture up and around filling. Pinch together to seal, reshaping to form a smooth ball. Dip ball into beaten egg whites, then into bread crumbs. Repeat process with remaining potato mixture and picadillo.
Step 3
Pour oil into a deep skillet to a depth of 2" and heat until about 350° on a candy thermometer. Fry fritters in batches until golden brown on all sides, 3-4 minutes. Drain on paper towels.