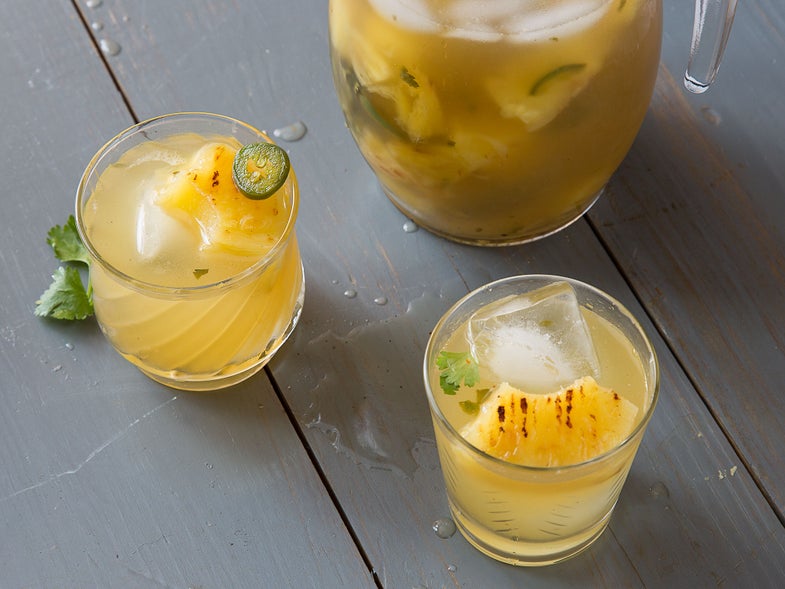 Made with mezcal, grilled pineapple, jalapeño, and lime, this take on the classic margarita is smoky, sweet, and spicy, with an herbaceous kick from cilantro. This recipe is based on one shared with us by Julian Medina, chef/owner of New York City's Toloache, Yerba Buena, and Coppelia restaurants
Mezcalita de Piña
Made with mezcal, grilled pineapple, jalapeño, and lime, this take on the classic margarita is smoky, sweet, and spicy, with an herbaceous kick from cilantro.
Ingredients
1 pineapple, peeled, cored, and cut into 1″ slices
1 jalapeño, sliced
1⁄4 cup cilantro leaves
1 1⁄2 cups mezcal
3⁄4 cup fresh lime juice
1⁄2 cup agave syrup
Instructions
Grill the pineapple: Heat a nonstick grill pan over high heat, or heat an outdoor charcoal or gas grill to high. Place the pineapple slices flat on the grill, and cook, flipping once, until charred on both sides, about 4 minutes. Remove from pan and let cool completely.
Place the grilled pineapple, jalapeño, and cilantro in a 2-qt. pitcher and using a muddler or wooden spoon, crush fruit and herbs until broken down. Fill with ice, and then add mezcal, lime juice, and syrup. Stir well and pour into glasses filled with ice, to serve.