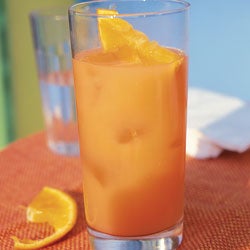 It's thought that punch came from the Hindi word panch, meaning "five," and, in fact, punches originally were made with five ingredients: lime juice, sugar, spices, water and a fermented sap called arrack. British sailors used to drink this concoction to ward off scurvy in the 1600s, but luckily for us, the practice evolved into something far more recreational.
Planter's Punch
This fruity cocktail is ideal for summer parties, or simply re-creating the feel of a summery day.
Ingredients
1 1⁄2 oz. dark rum
6 oz. freshly squeezed orange juice
Dash of grenadine
Juice of 1/4 lime
1 tsp. simple syrup
Orange slices
Instructions
In a cocktail shaker over ice, combine rum, orange juice, grenadine, lime juice, and syrup. Shake well, then strain into a tall glass over ice. Garnish with an orange slice.