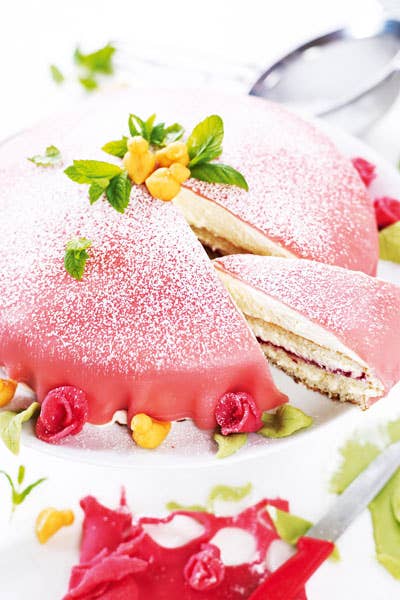 Recipes
Princess Cake (Princesstårta)
This recipe is reprinted from Malin Landqvist's Swedish Cookies and Desserts with permission from the publisher, Max Strom. This cake was named in honor of Swedish princesses Martha, Margaretha, and Astrid, all taught by domestic science teacher Jenny Åkerstrom in the early 20th century. This was apparently their favorite subject matter. Bake the sponge cake in a round midsize pan. Let cool completely.
1 cup (16 tbsp.) room-temperature butter 1 cup sugar 3 eggs 1 1/6 cup plain flour 2 tsp. baking powder 1 tsp vanilla sugar (with real vanilla)
1 vanilla pod 1/8 cup milk 1/4 cup heavy cream 2 egg yolks 1/3 cup light corn syrup/golden syrup 1 tbsp. cornstarch 3 gelatin sheets
1 lb. almond paste 1 1/4 cups powdered sugar 3 1/12 tbsp. light corn syrup/golden syrup Pink food coloring
1. To make the marzipan lid: Mix well 1 lb. almond paste, 1 1/4 cups powdered sugar and 3 1/12 tbsp. light corn syrup/golden syrup. Carefully drizzle in food coloring until the marzipan develops the desired shade. Roll out thin between two sheets of saran wrap.
2. To make the sponge cake base: Heat the oven to 350°. Grease a cake pan and line with breadcrumbs. Beat the butter and sugar until porous. Mix in the eggs one at a time. Add the dry ingredients and flavoring. Pour in the pan, smoothing with a spatula. Bake in the lower part of the oven for 35-40 minutes. Test with a sharp knife to see if it's ready. Cool a little in the cake pan before tipping out.
3. Halve a vanilla pod lengthwise and scrape out the seeds. Put both pod and seeds in a saucepan.
4. Add the rest of the cream ingredients except the gelatin sheets. Beat and simmer on low heat while stirring until the first bubble appears, then remove from heat. Put the gelatin sheets in cold water and leave 5 minutes, then take them out and mix them into vanilla cream until dissolved.
6. Store in the fridge, stirring a couple of times, until completely cold. Leave in the fridge for about 2 hours to set. (This can be done in advance) Take the previously prepared marzipan lid out of the fridge to bring to room temperature.
7. Whip the cream, but not too stiff. Blend 2/3 of the cream into the vanilla mix. Layer the cake bases with vanilla cream, adding raspberry jam before the second layer.
8. Smear vanilla cream around the cake, making a slight mound on top. Attach the marzipan lid and put in the fridge to cool for 1 hour. Dust with powdered sugar and decorate.
Swedes favor Easter bunnies in meringue and Easter eggs in marzipan. Edible flowers are cute, and decorative green herbs can be mixed with the marzipan leaves.