Randy Evans's Southern Peas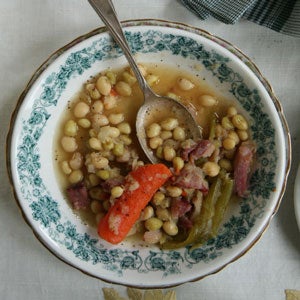 For this recipe, given to us by Randy Evans, the executive chef at Brennan's of Houston, Southern peas are simmered with a ham hock, carrot, celery, and chopped onions to add a sweet and smoky back note. See our favorite Southern peas »
Randy Evans's Southern Peas
This recipe was given to us by Randy Evans, the executive chef at Brennan's of Houston.
Ingredients
1 tbsp. olive oil
1 small onion, finely chopped
1 rib of celery
1 carrot, peeled
2 cups fresh or frozen Southern peas (such as zipper creams, black-eyeds, or butter beans)
2 1⁄2 cups chicken stock
1 small smoked ham hock
Kosher salt and freshly ground pepper
Instructions
In a 4-quart saucepan, heat oil over medium-high heat. Add onions and cook, stirring occasionally, until soft and translucent, about 10 minutes.
Cut celery in half and do the same with the carrot; add both to the pan along with the peas, stock, and ham hock. Bring to a boil, lower heat to medium, and simmer, stirring occasionally, until tender and creamy, about 1 hour. (The time depends on the type and size of the peas.)
Remove ham hock, slice meat from bone, and chop; return meat to pan. Season peas with salt and pepper to taste.