Raw Beets with Cumin Seeds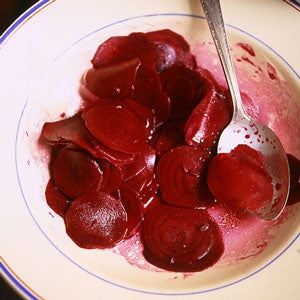 Use small sweet beets for this salad.
Yield: serves 2-4
Ingredients
6 raw small beets, trimmed, peeled and thinly sliced
1 tbsp. balsamic vinegar
3 tbsp. mild olive oil
1⁄4 tsp. cumin seeds
Salt and freshly ground black pepper
Instructions
Toss beets with vinegar, olive oil, cumin seeds, and salt and pepper to taste in a bowl. Chill well.