Recipes
Salsa de Tomatillo en Molcajete (Roasted Tomatillo and Serrano Salsa)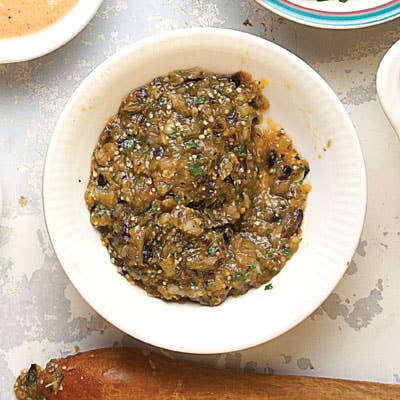 This earthy roasted salsa is traditionally pounded to a smooth paste in a molcajete, but a food processor works just as well.
Ingredients
1 lb. tomatillos, husked and rinsed
4 serrano chiles, stemmed
3 cloves garlic, peeled
1 tsp. kosher salt
1⁄4 cup finely chopped cilantro
2 tbsp. minced white onion
2 1⁄2 tsp. fresh lime juice
1 tbsp. olive oil
Instructions
Step 1
Position an oven rack 4" from broiler; heat to high. Place tomatillos, chiles, and garlic on a foil-lined baking sheet and broil, turning often, until blackened in spots and cooked through, about 10 minutes for the garlic and chiles, and 15 minutes for the tomatillos; remove each ingredient as it finishes cooking.
Step 2
Place roasted chiles, garlic, and salt in a food processor and puree until smooth; add tomatillos, cilantro, onion, and lime juice. Pulse until roughly chopped. Transfer to a bowl and stir in oil.