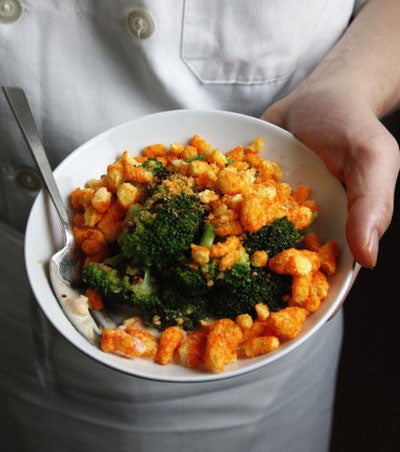 Chef Craig Koketsu of New York City's Park Avenue Winter, who is a big fan of Cheetos, uses the crunchy snack food as a garnish for broccoli served on a sauce made with Gouda and Parmesan cheeses.
Yield: serves 6
Ingredients
2 cups heavy cream
3 tbsp. minced garlic
2 tbsp. minced shallots
6 whole black peppercorns
1 bay leaf
1 1⁄2 cups grated aged Gouda
1⁄2 cup grated Parmesan
Kosher salt, to taste
1 1⁄4 lb. (about 2 large heads) broccoli, cut into small florets, stems cut crosswise into 1/4″ slices
3 tbsp. extra-virgin olive oil
1 tsp. crushed red chile flakes
2 cups original Cheetos, crushed by hand
Instructions
Make the cheese sauce: Heat cream, 2 tbsp. garlic, shallots, peppercorns, and bay leaf in a 2-qt. saucepan over medium-high heat. Cook, stirring often, until reduced by half, about 6 minutes. Remove pan from heat, stir in cheeses until melted, and season with salt. Set a fine strainer over a small saucepan and strain sauce, discarding solids. Set aside and keep warm.
Bring a large pot of salted water to a boil over high heat. Add broccoli and cook, stirring, until crisp-tender, about 3 minutes. Drain broccoli, transfer to a bowl of ice water, and let chill. Drain and transfer to paper towels to dry; set aside. Heat oil in a 12″ skillet over medium-high heat. Add remaining garlic and chile flakes and cook until fragrant, 1 minute. Add broccoli and cook, stirring often, until just subtly browned, about 6 minutes.
To serve, spoon cheese sauce evenly among 6 warm serving bowls or small plates. Top sauce with broccoli and a generous sprinkling of Cheetos. Serve immediately.