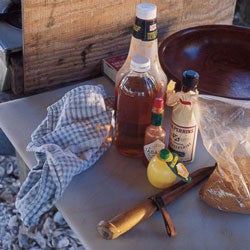 Here is a basic recipe for cocktail sauce using all the standard ingredients. It makes a zesty accompaniment to steamed oysters or shrimp.
Seafood Cocktail Sauce
This simple sauce — its kick comes from horseradish, lemon, and Tabasco — goes with just about any seafood.
Ingredients
1 cup tomato ketchup
1⁄4 cup of vinegar
1⁄4 cup of horseradish
Juice of 1 lemon
1 tsp. worcestershire sauce
1⁄2 tsp. Tabasco
Instructions
Mix all ingredients together in a bowl and place in refrigerator until well-chilled. Serve with your choice of seafood.