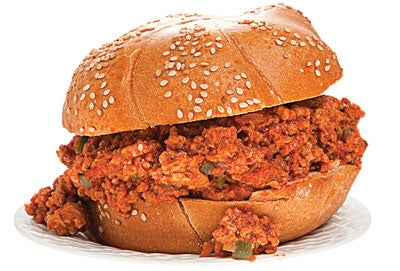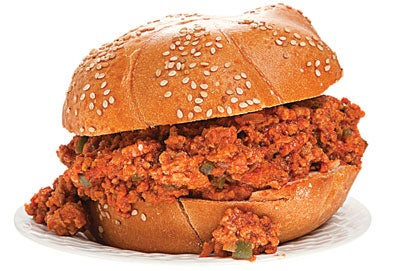 Popular throughout America as an easy way to stretch meat, this sandwich of ground beef and spicy tomato sauce is a classic. This recipe first appeared in our April 2011 special Sandwich Issue with author Daniel Pinkwater's article Say My Name.
Yield: serves 4
Ingredients
1 tbsp. canola oil
1⁄2 small yellow onion, finely chopped
1⁄4 green bell pepper, cored, seeded, and finely chopped
8 oz. ground beef
1 cup canned tomato sauce
2 tsp. Worcestershire
1 tsp. chili powder
Kosher salt and freshly ground black pepper, to taste
Tabasco, to taste
4 hamburger buns, toasted
Instructions
Heat oil in 12″ skillet over medium-high heat. Add onion and pepper and cook, stirring, until soft, about 6 minutes.
Add beef and cook until browned, stirring so that the meat breaks up into small pieces, about 8 minutes.
Add tomato sauce, Worcestershire, chili powder, salt, pepper, and Tabasco; cook, stirring occasionally, until reduced and thick, about 10 minutes.
Divide between buns and serve.