Recipes
Stuffed Lettuce Leaves in Broth (Lattughe Ripiene in Brodo)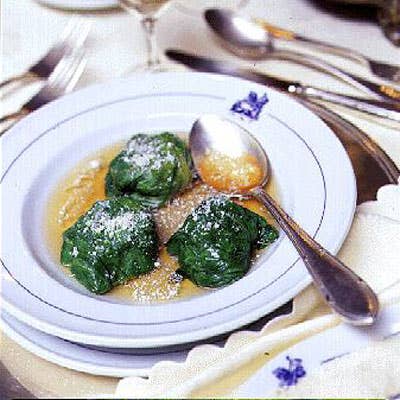 At Ca'Peao, a restaurant in Leivi, in the hills above Chiavari, about 30 miles east of Genoa, Franco and Melly Solari serve this, their version of a traditional Genoese Easter dish, all year long. Lattughe ripiene—stuffed lettuces—little packets enclosing a flavorful veal forcemeat, simmered in broth—has been traditional Genoese Easter fare since the 16th century. (An ancient Genoese proverb says ''Pe Pasqua nu ghe cuxin-a ca nu fasse a laituga pin-a''—For Easter, there's no kitchen that doesn't make stuffed lettuce.) Though stuffed cabbage may be more familiar, the mildness and, again, faint sweetness of the lettuce function as a perfect link between the richness of the filling and the simplicity of the broth.
Ingredients
1 oz. dried porcini mushrooms, rinsed
2 slices country-style Italian bread, about 1/4" thick, crusts removed
1⁄4 cup milk
salt
1⁄4 lb. veal sweetbreads
2 tbsp. butter
1 yellow onion, peeled and chopped
1 clove garlic, peeled and minced
1⁄2 lb. veal loin, coarsely chopped
1 bay leaf
Freshly ground black pepper
2 tbsp. pine nuts, toasted
1 tbsp. finely chopped fresh parsley
1 tbsp. finely chopped fresh oregano
1⁄4 cup freshly grated parmigiano-reggiano
Pinch freshly ground nutmeg
1 egg plus 1 egg yolk, lightly beaten
3 heads butter lettuce, washed and separated
8 cups rich chicken stock, warm
Instructions
Step 1
Soak mushrooms in a bowl of warm water until soft, about 15 minutes. In another bowl, soak bread in milk until liquid is absorbed.
Step 2
Bring a small saucepan of salted water to a boil over high heat. Add sweetbreads and blanch for 2 minutes. Drain and refresh in cold water. Remove and discard visible membranes, chop, and set aside.
Step 3
Melt butter in a medium skillet over medium heat. Add onions, cook for 5 minutes, then add garlic and cook, stirring occasionally, for 5 minutes more. Increase heat to medium-high and add sweetbreads, veal loin, and bay leaf. Season with salt and pepper and cook, stirring occasionally, until meat is brown, 5-7 minutes. Discard bay leaf, and stir in pine nuts, oregano, and parsley; set aside to cool.
Step 4
Drain, rinse, and chop mushroom. Transfer to a food processor, add meat mixture, and pulse until coarsely ground. Add bread, parmigiano-reggiano, nutmeg, eggs, and salt and pepper. Pulse until smooth.
Step 5
Meanwhile, bring a small saucepan of salted water to a boil over high heat. Blanch 24 large lettuce leaves, a few at a time, until just-wilted, 2-5 seconds. Set leaves aside on a clean work surface.
Step 6
To assemble, place 2 tbsp. filling in each leaf. Fold in rib and top edge, then sides, to form a bundle. Continue until all filling is used. Place bundles (folded side down) in a large, deep skillet. Pour stock into skillet, cover, and bring to a simmer over medium heat, about 5 minutes. Transfer bundles to individual soup bowls, allowing 3 per serving. Ladle broth over top. Serve with parmigiano-reggiano, if desired.