Triple-Tart Cranberry Butter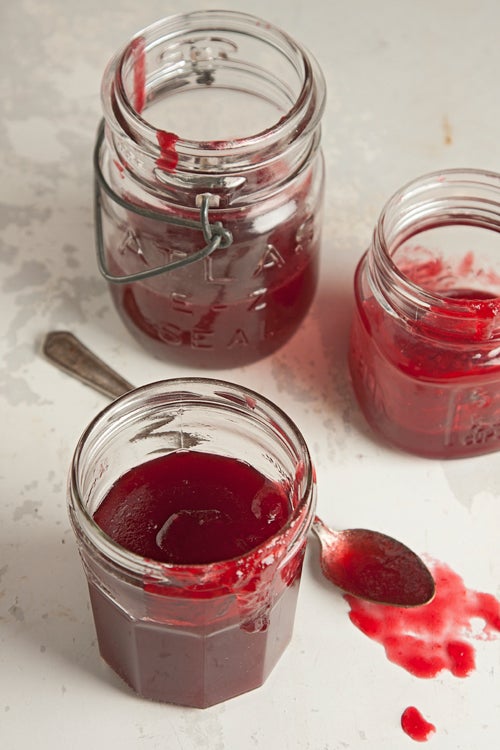 This cranberry butter recipe from cookbook author Karen Soloman is great on anything from breakfast biscuits to turkey sandwiches.
Yield: makes 3 8-Ounce jars
Ingredients
1 cup dried tart cherries
1 lb. sweet apples, such as Fuji or Braeburn, peeled, cored and cut into ½" cubes
12 oz. fresh cranberries
1 1⁄2 cups pomegranate seeds
1 1⁄3 cups sugar
1⁄2 tsp. kosher salt
Instructions
Place cherries in a medium bowl and cover with 3 cups of boiling water; soak until tender, about 10 minutes. Drain, reserving 1 cup of liquid and transfer to a 4-qt. saucepan with apples, cranberries, and pomegranate seeds. Bring to a boil over high heat; cook, stirring occasionally, until cranberries begin to burst, about 2 minutes. Reduce heat to medium-low and continue to cook until fruit is very tender, about 30 minutes. Pour through a fine mesh strainer into a 2-qt. saucepan and press on solids to extract as much pulp as possible; discard solids. Add sugar and salt, and bring to a simmer over medium-high heat; cook, stirring constantly, until mixture begins to bubble, about 2 minutes. Reduce heat to medium-low and continue to cook until slightly reduced and thick, about 8 minutes more. If you like, divide between three sanitized 8-oz. glass jars with resealable lids and follow the procedure for Canning with a Boiling Water Bath (process filled jars for 10 minutes).
Karen Solomon is the author of the forthcoming Asian Pickles: Japan (Ten Speed Press); Jam It, Pickle It, Cure It; and Can It, Bottle It, Smoke It.