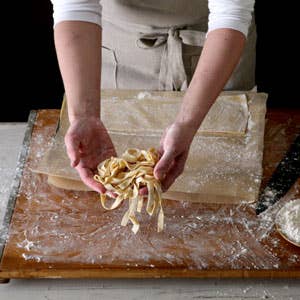 Many Bolognese pasta makers roll their pasta dough by hand to make tagliatelle, but we found that using a hand-cranked pasta roller and cutting the sheets of pasta with a knife yields excellent results.
1. Form 3 cups flour into a mound; create a well in center. Sprinkle 1 tsp. kosher salt over flour. Add 3 eggs, 1 egg yolk, 2 tbsp. water, and 1 tbsp. olive oil to well.
2. Using a fork, incorporate eggs and liquid in a circular motion, pulling in small amounts of flour until dough becomes stiff.
3. Knead dough, adding a little flour as necessary, to prevent sticking, until it's smooth and elastic, about 10 minutes. Wrap in plastic wrap; let rest for 30 minutes.
4. Cut dough into quarters.
5. Flatten 1 quarter into a rectangle (cover others with a towel). Pass dough through a hand-cranked pasta roller set at widest setting.
6. Fold dough in thirds, creating another rectangle; feed open edge through roller set at widest setting. Fold again; roll twice more using same setting. Decrease setting one notch and roll pasta through again; repeat, decreasing setting by one notch each time until you've reached the second-to-last setting, creating a 1⁄16"-thick sheet.
7. Sprinkle sheet with flour; halve crosswise. Transfer to flour-dusted parchment paper. Repeat with remaining dough, adding flour-dusted parchment paper between each layer.
8. Tightly roll each sheet, from short end to short end; cut cylinder crosswise into 3⁄8"-wide strips.
9. Unroll strips and toss with flour; spread on a floured parchment sheet. Let dry for 30 minutes.
To serve: Cook tagliatelle in salted boiling water until al dente, 3-4 minutes. Drain; transfer to a bowl and toss with 2 cups ragu. Serve with grated parmigiano-reggiano.