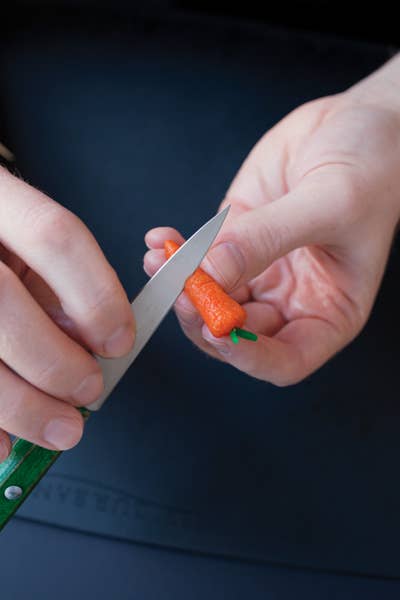 1. To make the marzipan carrots for classic carrot cake (see Classic Carrot Cake), take a quarter-size piece of store-bought marzipan paste (or almond paste) tinted with a few drops of orange food coloring and shape it into a cylinder that's tapered to a point at one end.
2. Roll a pea-size amount of marzipan paste tinted with green food coloring between your fingers to form a thin cylinder. Lay that cylinder across the blunt end of the orange cone; use a toothpick to press center of cylinder into top of cone, creating two "leaves."
3. Set marzipan carrot aside for 10 minutes to allow its exterior to dry slightly. Then, using a small paring knife, score the surface of the carrot in staggered circular patterns to create natural-looking "wrinkles"; repeat to make 11 more carrots.