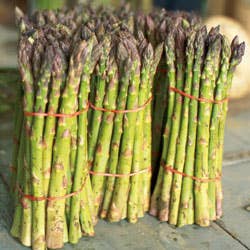 Techniques for preparing asparagus vary according to its size, origin, and freshness; this is how we do it.
CLEANING: Commercially grown asparagus, which is washed before shipping, needs only a quick rinse in cold water prior to cooking. But spears that come from small farms or your garden require extra care. Soak in cold water for about 15 minutes, gently agitating every so often to loosen any sandy soil trapped in tips or "fins"; then lift asparagus from the water, leaving grit behind.
TRIMMING: For thin spears, hold stalk with one hand at base, the other hand about two inches away; then bend spear. If it doesn't break, move hands up a little and try again. For thick spears, which tend to break anywhere, use a knife to cut where you see a slight color change.
PEELING: Thin or very fresh spears are tender enough to eat unpeeled. Thick asparagus is peeled both for presentation and so that stalks and tips cook more evenly. Peel asparagus two-thirds of the way up using downward strokes with an old-style metal swivel peeler. (These fine-bladed peelers remove only skin, leaving flesh behind.)