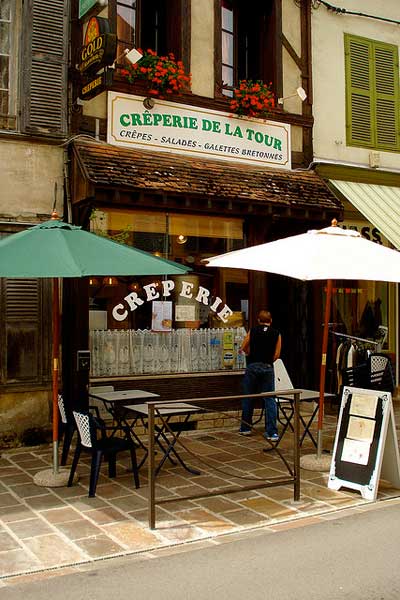 Travel
Crêpe Awakenings
France's most iconic streetfood is also one of its most sublime culinary pleasures.
Growing up, French food was never very prominent on my culinary radar. My experience with cuisine was limited to the occasional high-pressure family visit to one of Miami's starchy French restaurants, and as a result I spent much of my life subscribing to the notion of French food as lofty and inaccessible. But on a weeklong visit not too long ago to Lyon, arguably France's gastronomic capital, everything changed.
After just a few indulgent meals at Lyon's renowned bouchons, I realized to my dismay that at the rate I was going, my meager traveler's budget wouldn't stretch to cover quenelles, gratins, and pink praline tarts for the rest of my trip. I needed to adjust my dining plan, or be forced to wash dishes in the restaurants' kitchens to pay for my return ticket to Italy. So I set out to find the city's best, cheapest fare.
Once I opened my eyes to this other side of Lyonnaise cuisine, I found innumerable, simple pleasures. On Sunday morning, I stumbled upon freshly shucked oysters with sparking white wine served from a stand on the bank of the Saone. Lunch on Monday, eaten on some steps in the Place des Terreaux, was a flaky, custardy quiche and a basket of perfectly ripe currants from an outdoor market. But above all other foods were the delicate crepes to be found at stands and cafes around the city, exquisite, tasty proof that French food could be both more unassuming and more sublime than I had ever realized.
I'm convinced that crepes are the perfect ambassadors for French cuisine. They're relatively simple to prepare, can be filled with an infinity of ingredients, sweet or savory, simple or complex — you can even layer them on top of one another to form a cake, or tear them up to garnish in soup. My favorite variation of all is a simple version, perfect for summer: a sweet, golden crepe folded in four, topped with homemade sour cherry compote, and a sprinkle of castor sugar. Bon appetit a tous!