Crêpes with Vanilla Ice Cream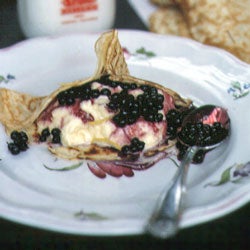 The recipe for this dessert, adapted from The Pancake Handbook (Ten Speed Press, 1993), uses organic heavy cream. Onee we like is from the Straus Family Creamery in northern California.
Yield: makes 12 CREPES
Ingredients
FOR THE ICE CREAM
3 egg yolks
1 cup milk
1⁄2 cup sugar
1⁄4 tsp. salt
1⁄2 vanilla bean, split lengthwise
2 cups heavy cream
FOR THE CRÊPES
2 eggs
1 1⁄2 cups milk
6 tbsp. melted butter, cooled
1 cup flour
1⁄2 tsp. salt
Instructions
For the ice cream: Whisk together egg yolks, milk, sugar, and salt in top of a double boiler, then add vanilla bean. Cook over simmering water over medium heat, stirring constantly, until custard coats the back of a spoon. Remove from heat and cool. Discard vanilla bean, stir in cream, cover, and chill completely. Pour custard into ice cream maker and process according to manufacturer's instructions.
For the crêpes: Beat eggs, 3⁄4 cup water, milk, and 4 tbsp. of the butter in a medium bowl. Sift in flour and salt; mix well.
Lightly brush a small skillet with remaining 2 tbsp. butter and place over medium-high heat. When skillet is hot but not smoking, pour in 1⁄4 cup batter. Quickly lift skillet and swirl batter to make a thin crêpe. Cook until bubbles form on top and edges begin to brown. Turn with spatula and cook till golden.
Place a scoop of ice cream in the center of each crêpe and fold crêpe around it. Serve with fresh berries.