Crêpes with Maple Sugar and Syrup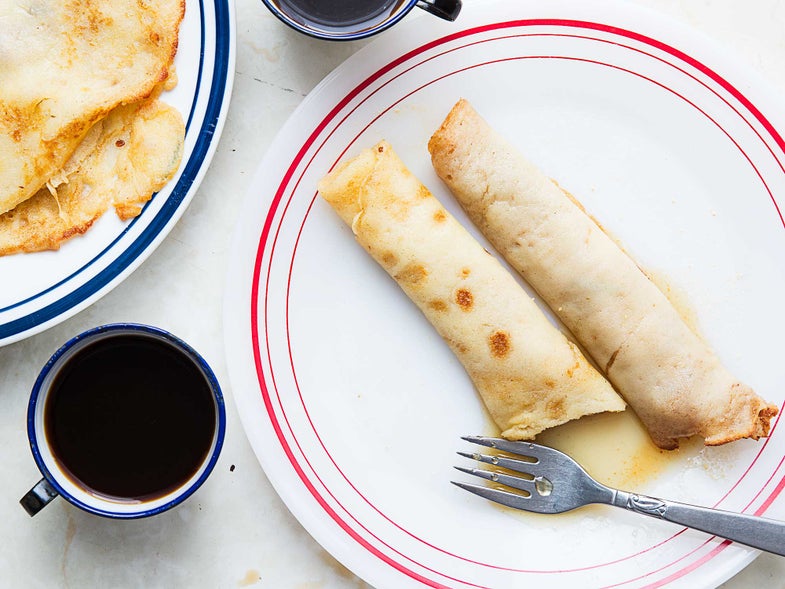 This recipe for crêpes au sucre et au sirop d'erable comes from Bas-St-Laurent, Quebec's second-largest maple syrup-producing region. Layered and rolled with sweet amber sugar and syrup, they make an indulgent breakfast or dessert.
Yield: serves 12
Ingredients
1 1⁄2 cups milk
10 tbsp. unsalted butter, melted
1 egg
1 cup flour
3 tbsp. sugar
1⁄2 tsp. baking powder
6 tbsp. maple sugar
12 tbsp. maple syrup
Instructions
In a medium bowl, whisk milk, 4 tbsp. butter, and egg. In a large bowl, whisk flour, sugar, and baking powder; add milk mixture and whisk until smooth. Set aside for 10 minutes. Grease a 10″ nonstick skillet with ½ tbsp. butter and heat over medium-high heat. Add ¼ cup batter; swirl pan to spread batter. Cook crêpe, turning once, until browned, 1–2 minutes. Transfer to a warm plate and repeat with remaining butter and batter. To serve, sprinkle ½ tbsp. maple sugar onto each crêpe and drizzle with 1 tbsp. maple syrup. Roll up into a cylinder and serve immediately.