Amaro: Three Bottles To Try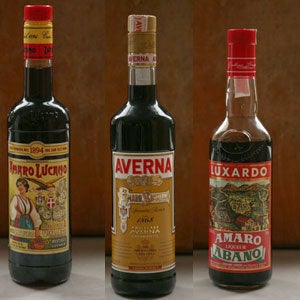 We've long known that Basilicata, the region of Italy tucked between the toe and the heel of the boot, is home to many of our favorite foods and wines, but we've only recently learned that amaro, the bitter Italian digestif, often hails from the same place. Made for more than five centuries from a process that entails the macerating of herbs (anything from chamomile to wormwood), citrus, flowers, and roots in alcohol, the drink is underappreciated here in the States, where it is often claimed to be too harsh for the American palate.
Similar to grappa (made from grape skins), vin santo (a thick, meadlike wine), and other Italian digestifs, amaro is meant to be sipped slowly after a leisurely meal. It is usually served neat, thinned with tonic water, or over ice, and in the winter it is sometimes heated and garnished with a twist of lemon. While amaro makes no apologies for its boldly herbaceous flavor—it was originally concocted for use as a tonic, not a cocktail mixer, after all—we were pleasantly surprised by these mellow and drinkable liqueurs.
Amaro Lucano (60 proof; $28.00)
This zesty, peppery sweet amaro tickles the tongue with effervescent hints of cola. Our favorite of the three, hands down.Vino Italian Wines and Spirits
Averna Amaro Siciliano (64 proof; $30.00)
Burnt caramel and licorice crowd each sip of this amaro, which finishes with a lingering lemon zing. Domaine Select Wine Estates
Luxardo Amaro Abano (60 proof; $23.00)
Thin textured, with distinct vegetal notes at first, the Luxardo rounds out nicely with hints of white pepper and candied orange peel. Preiss Imports