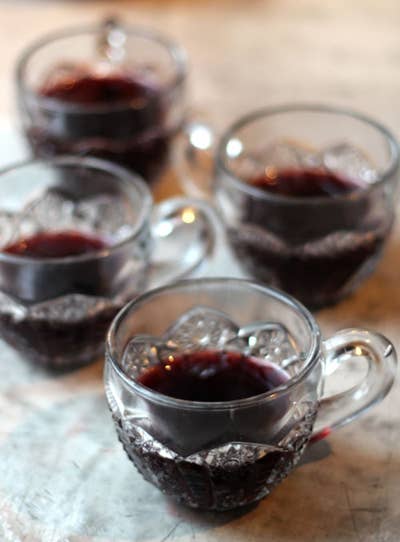 Drinks
Friday Cocktails: Pumpkin Mulled Wine
Earlier this fall, SAVEUR kitchen director Kellie Evans and I ended up at a James Beard House dinner featuring "New England Mexican" food from Massachusetts restaurant The Painted Burro. The food was great, but for me, the most memorable of the localized Latin flavors was in the drink: a pumpkin sangria. Normally, the very word "sangria" makes me tense, dredging up memories of syrupy sweet concoctions masking bad wine, crowned with sad pieces of bobbing fruit, or at best, a fruity, decidedly summery wine blend. But this pumpkin sangria was a refreshing revelation, one that made me re-think the seasonality of fruited wine.
The drink's harvest-time flavors come courtesy of sugar pumpkin simmered with cloves, cinnamon, and nutmeg before being bathed in red wine and left to infuse overnight, where the simple combination of ingredients deepens into a spicy, autumn cocktail. Strained to a clear crimson, at the Beard House it was served over ice, but the chilly November weather inspired me to warm my brew when I made it myself at home—a squash-inspired version of mulled wine. The spices filled my home with the aroma of the holidays, and the pumpkin added a velvety richness with a taste evocative of spiced pumpkin pie.
This Thanksgiving, I'm going to greet my guests with a steaming cup of this festive drink, all the more cheerful knowing that this libation, while lusciously flavored, is feather-light and will leave them with plenty of room for turkey and stuffing.